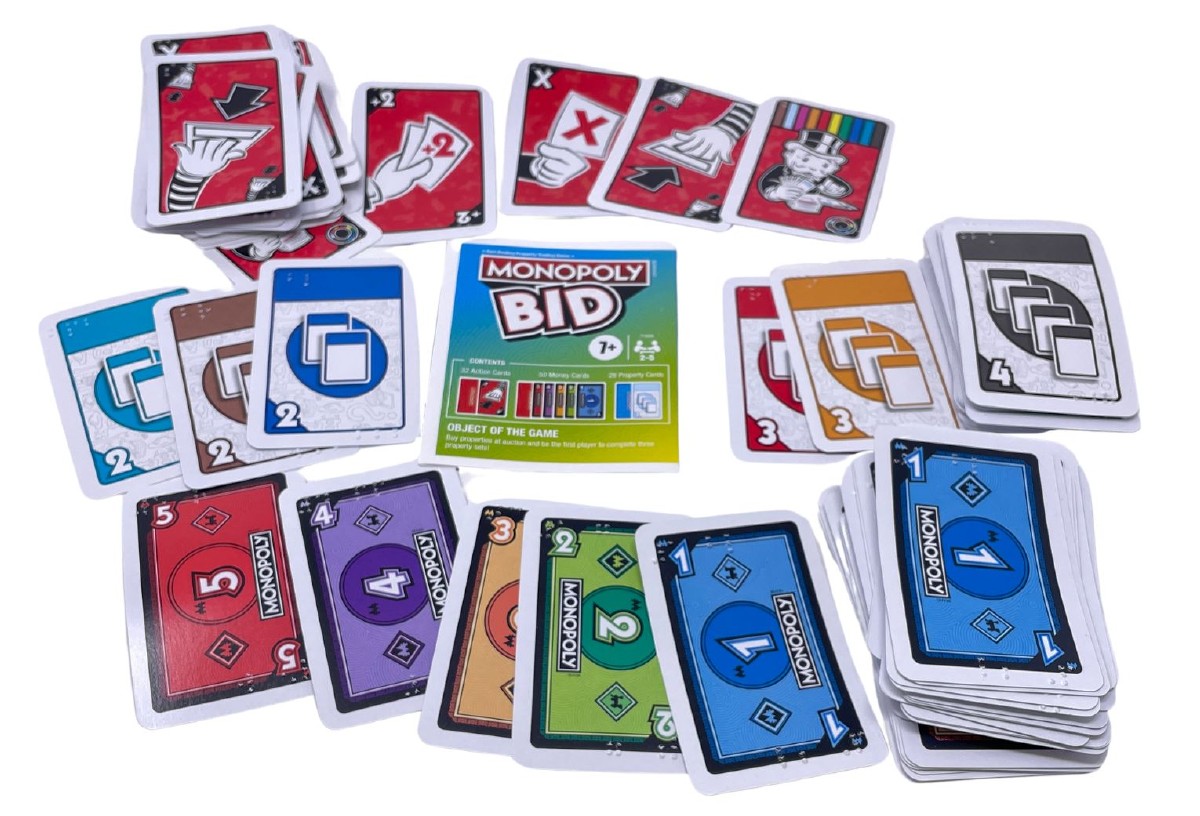 Braille Monopoly Bid
Item Number: 1285
Product Features
Brand-name Hasbro Monopoly Bid cards with Braille added.
Deck includes 110 Braille-embossed playing cards.
Durable plastic-coated cards have Braille on two corners, along with full-color printing.
Deck comes packed in a hard-Plastic case.
For four players, ages 7+.
Simplified, portable version of Monopoly - not the board game.
Package Weight: about 6.3 ounces.
Product Description
Get ready for an exciting quick-playing Monopoly card game! Monopoly Bid is a game of chance, luck and strategy as players bid in blind auctions, pay with money cards, steal properties with Action cards, and change their luck with Wild cards. Played in rounds, everyone gets a chance to host an auction. When it's time to bid on a property, players choose how much money they want to risk. Then everyone shouts, "1, 2, 3, Bid!" and lays their money cards down. The player who bid the most money gets that property. Collect 3 property sets to win. This card version of Monopoly is an ideal choice for game night, parties or camping trips - especially when there's no time to set up and put away an involved board game.
All 110 cards in Hasbro's Monopoly Bid game have Braille added to two opposite corners, making it possible for blind moguls everywhere to build their real estate empires. Packed into a snap-shut plastic box, Monopoly Bid is for four players seven and up.
Remember: this is a playing card edition of the ever-popular Monopoly board game. While this is a simpler, more portable version of Monopoly, the traditional Monopoly board game is also available with Braille on the board and tiles (sold separately).
Ask a Question About this Product
(From the Card Games shelf.)
Related Products:
Discard Cards by Making Stacks in numerical Order
Item Number: 1056
$29.95
Make Sets and Runs to Complete All 10 Phases First
Item Number: 1263
$22.95
Match Count, Shape or Color in an Epic Card Race
Item Number: 1283
$16.95