All-Purpose Talking Clock
A Talking Weather Station, Sturdy and Feature-Rich
Item Number: 1020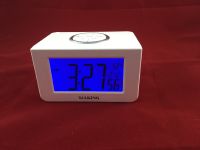 More Pictures
Listen to this Product
Read the Instruction Sheet
Product Features
Speaks time, temperature, and humidity.
Has built-in timer.
One daily alarm.
Can speak time in either 12 or 24-hour format.
Heavy-duty, stylish, cube-shaped clock.
Features high-quality female voice and digital display.
Buttons on top of clock in a circular pattern.
Clock will even announce time left on timer when Talk button is pressed.
Takes 4 AAA batteries (not included).

Product Description:
Made for almost any room and lifestyle, this heavy-duty, stylish clock boasts all the features you could ever ask for in a timepiece - and more. Its cube-like shape makes it easy to find a place for, be it your kitchen counter or RV front table. And the features it offers make it an asset to any room.
All the buttons are found on the top of the clock in a circular pattern. The Talk button is in the center, and gives you all the information you need to make a plan. "It is 5:49 PM. The temperature is 70.5 degrees Fahrenheit. The humidity is 47 percent." Right away, you know you're late for your dinner date, it's too hot for your guests, but the humidity is just fine.
But that's not all. The clock can speak the time in either 12 or 24-hour format. With the press of a single button, you can access the built-in timer, perfect for makeing sure you don't burn your cookies - or tonight's roast beef. The clock will even announce how much time is left on the timer when you hit the Talk button, something no other Talking Timer will do. This clock is the RV-lover's dream, and the one-stop solution for a crowded apartment or basement suite. It even has rubber feet to keep it from sliding around, making it a great choice for even a large kitchen. It's an alarm clock that speaks the time and temperature, has a built-in timer, and can even announce the humidity! Takes 4 AAA batteries, not included.
Measures about 4-3/4 in. by 3 in. by 2-3/4 in.
Package Weight: about 9.9 ounces.
(From the Talking Clocks shelf.)
Related Products: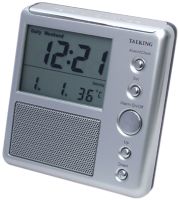 Talking Thermometer Clock
Deluxe Model, with Large Display and Human Voice
Item Number: 1019
$19.95
Tell Me More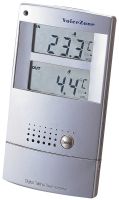 Talking Indoor-Outdoor Thermometer
Hear Temp., Inside and Out, at Touch of a Button
Item Number: 1061
$14.95
Tell Me More