Double-Six Dominoes, Plastic (With Raised Dots)
Temporarily out of stock.
Usually ships in July 2017.
28 Dominoes with Raised Dots and No-Skid Surface
Item Number: 1232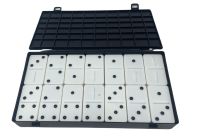 Larger Picture
Product Features
Includes 28 domino tiles.
Tiles are made of solid plastic, and packed in black plastic case.
Each tile has raised bumps to indicate its value, and a tactile line down the center.
Tiles each measure 2 inches by 1 inch, and have a rough surface on the back to keep them from sliding around.

Product Description:
Color: White with Black dots.
Everyone loves a family game of Dominoes, so we're pleased to introduce a set that has raised dots. Now everyone, blind or sighted, can join in the fun!
This set comes with 28 plastic domino tiles, and a hard-plastic case to keep everything contained. On the dominoes themselves, you'll find large, raised dots to indicate the number on each side, and a tactile line down the center. Each domino even has a rough-textured back, to help keep the tiles from sliding around on the table. Tiles measure two inches long and an inch wide, and are made of solid plastic for a playing piece that's absolutely indistructible.
Measures about 8 in. by 4-1/2 in. by 1 in.
Package Weight: about 14.4 ounces.
(From the Dominoes and Dice shelf.)
Related Products: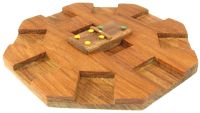 Domino Hub
Play Games Like Mexican Train with Our Quality Hub
Item Number: 1235
$2.95
Tell Me More