Chess Set, Wooden (Tactile)
Solid Wood Board and Men with Tactual Tops
Item Number: 1173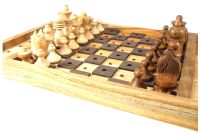 More Pictures
Learn How to Play Chess
Product Features
Elegant chess set specially designed for blind and visually impaired players.
Made entirely of genuine teak.
Boasts wooden playing pieces specially designed to be readily identified by touch.
A fascinating game of strategy.

Product Description:
Over fifteen hundred years ago, the captivating game of Chess was invented in either China or India. From there, the game spread quickly to every country on the globe, played by kings, noblemen, and commoners alike. It is certainly one of the most popular and thought-provoking games of all time.
Now, there have been many chess sets designed for blind and visually impared players, we must admit. But none can compare with the brand-new, all-wood Chess set we now present. Made entirely of authentic, genuine teak, the playing board alone is breathtaking. Complete with wooden playing pieces, specially-designed to be identified by touch, this set is a must-have for any blind Chess-player. No, you won't find any plastic feet, glued-on squares, or mold-casted playing pieces in this one-of-a-kind, all-new presentation of Chess. The heavy-weight playing board will look elegant on any surface, from coffee table to nightstand, and the wooden playing pieces are fun to play with and authentic to feel. In summary, there have been many Chess sets made in the past thousand years, and a few have been adapted to be played by the blind. But only one has the look of a true, Chess-master's collector's item, and this is it.
Measures about 14 in. by 9 in. by 1 in.
(From the Board Games shelf.)