Talking Thermometer Clock
Deluxe Model, with Large Display and Human Voice
Item Number: 1019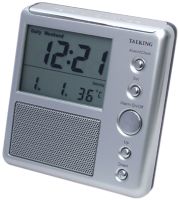 Larger Picture
Listen to this Product
Read the Instruction Sheet
Product Features
Speaks time and temperature.
Has sliding volume control.
One daily alarm.
Clock has special, long-lasting, 5-minute alarm.
Optional snooze feature.
Heavy-duty, with special weekend alarm.
Features crystal-clear female voice and 1" high numbers on a huge, brightly-lit digital LCD display.
Stands 4-1/2" tall, with rubber feet on the bottom.
Indoor temperature is available in Fahrenheit or Celsius.
Uses 4 AA batteries (not included).

Product Description:
For those occasions when you can settle for nothing but the absolute best, This huge clock's rich, vibrant speech sets it apart from anything else you've ever heard before. By simply touching the four-inch long TALK button on top, it announces the time and indoor temperature (in Fahrenheit or Celcius) with a pleasant female voice. The clock also has a high-low volume control, a built-in snooze feature, a daily alarm and a separate weekend alarm. (A visual calendar is also available on the unit, but the clock does not speak the date out loud.)
What's more, a blind person can easily set the time and alarms - each Mode button beautifully speaks exactly what it's doing. (Our favorite thing about setting the time on this clock is that there are both Forward and Backward buttons, so if you go one minute past the top of the hour, you don't have to press a button fifty-nine times to move one minute back.) The only thing you'll need a sighted person to set on this clock is the date - if you plan on using the weekend alarm.
Of all our talking products under twenty dollars, this one wins first prize for its crystal-clear speech, which is great for those with hearing loss. As well, the one-inch high numbers on the huge, brightly-lit LCD display will score major points with individuals who are visually impaired.
Standing a full four and a half inches tall, our heavy-duty Talking Thermometer Clock has rubber feet on the bottom to prevent it from sliding around. Built to last for years and years, this sturdy clock will look simply stunning on your nightstand, desk or coffee table! Uses four AA batteries (not included).
Measures about 5 in. by 5 in. by 4 in.
Package Weight: about 11.6 ounces.
(From the Talking Clocks shelf.)
Related Products: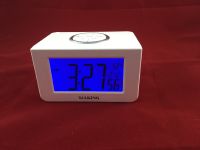 All-Purpose Talking Clock
A Talking Weather Station, Sturdy and Feature-Rich
Item Number: 1020
$19.95
Tell Me More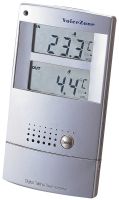 Talking Indoor-Outdoor Thermometer
Hear Temp., Inside and Out, at Touch of a Button
Item Number: 1061
$14.95
Tell Me More