Talking Pedometer Clock
Counts Steps and Distance, Also Has an Alarm Clock
Item Number: 1286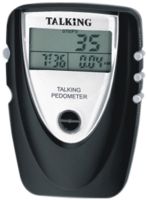 Larger Picture
Listen to this Product
Read the Instruction Sheet
Product Features
Small and light, with clear female voice.
Just touch button on side for number of steps and miles walked.
Features alarm clock with 4 alarm sounds (including rooster and tune).
Listen to 16 different tunes as you jog.
Boasts indented reset button.
Runs on 1 CR2025 battery (included).

Product Description:
If you're the type of person who literally likes to walk the extra mile, this pedometer should be just perfect for you. It's so small and light that you can easily forget you have it clipped to your belt or pocket, yet it's loud enough to be easily heard as you walk. At the end of your hike, or if you're getting tired and wonder how much further you must run to reach your three-mile goal, just touch the small button on the side of the unit. A clear, female voice announces how many steps you've taken, and how many miles you've traveled.
But that's not all ... several other cool features make this device a real favorite for kids and adults alike. A built-in clock can always tell you the current time, you can choose between four different alarm sounds including a rooster and piece of music, and the reset button is indented so you won't bump it and erase your impressive numbers. Perhaps most unique, however, are the sixteen different tunes you can listen to, as you jog. The faster you walk, the faster the tune plays. If you stop to talk to a friend, the music gets slower and slower ... until it stops ... just like you did.
So not only is our Pedometer Clock a great motivator for any exercise program, it's a fun toy and a great conversation-starter. (Runs on 1 CR2025 battery, included.)
Measures about 2-1/2 in. by 1-3/4 in. by 1/2 in.
Package Weight: about 2.1 ounces.
(From the Sporting Goods shelf.)
Related Products:
Fatal error: No other related products found for class Walking