Talking Cube Clock
One-Button Design, Clear Male Voice, Loud Speech
Item Number: 1017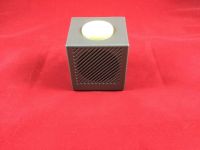 More Pictures
Listen to this Product
Read the Instruction Sheet
Product Features
Simple, one-button design.
Can announce time every hour.
Has rotary volume dial.
One daily alarm.
Optional snooze feature.
5 different alarm sounds.
Spoken instructions guide you through every setting and feature.
Features a clear, natural-sounding British male voice.
4 sturdy rubber feet; durable, rugged construction.
Tucked away behind battery door are rotary volume control and set buttons.
Large speaker; easy to hear; contrasting function and speech buttons.
Operates on 4 AA batteries (included).

Product Description:
This clock was designed over in England, where nobody seems to settle for anything less than the absolute best. And, mark our words, it shows!
Our best-selling, easy-to-use cube-shaped talking alarm clock boasts a clear, natural-sounding British male voice. On top of the clock is the one-inch-in-diameter TIME button - which, when pressed, instantly reports the time: "It's 8:32 PM." The speaker on the front of the clock is over two-and-a-half inches square, meaning that it's easy to hear the clock's speech - even if your hearing isn't what it used to be. There are four sturdy rubber feet at the bottom of the clock to prevent it from sliding around on your table or nightstand, plus the clock's weighty feel gives it a well-designed, rugged appearance.
But that's not all. There are absolutely no setting buttons exposed anywhere on this clock - which means ... no buttons to bump and accidentally change the time, shut the alarm off, and so on. To set up the clock, simply flip open the battery door (don't worry - the batteries are safely tucked away inside a cartridge so they won't fall out). Above the battery compartment - behind the door - you'll find something unheard-of on a talking clock - an actual rotary volume dial that can adjust the speech output from whispering quiet to almost shouting loud. And the square- and circle-shaped buttons are used to set the time and alarm, turn Hourly Announce on or off, etc. You can also choose your favorite alarm sound from five practical and fresh new selections: cuckoo, low bong, high bong, wind-up bell, and fast beep.
There's still more noteworthy information pertaining to our Talking Cube Clock. All of the function and speech buttons are contrasting - making the clock easier for someone with low vision to use. When setting or adjusting the clock's settings, audible prompts guide you step-by-step through the entire process - making this clock 100% accessible to totally blind individuals. A Snooze alarm is also present, which sounds the alarm for one minute, then snoozes for four more minutes.
In short, if you're in the market for a talking clock that'll withstand the test of time and be practical and easy to use all the while, this baby is the obvious choice. (The clock operates on four AA batteries, which are supplied in the box!)
Package Weight: about 10.9 ounces.
(From the Talking Clocks shelf.)
Related Products: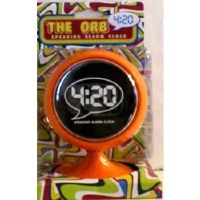 Orb Talking Clock
Futuristic Space Look, Just Whack to Hear Time
Item Number: 6003
$13.95
Tell Me More