Talking Calendar Watch
Handsome Analog Face, 1 Button, Time and Date Talk
Item Number: 1007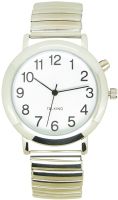 Larger Picture
Listen to this Product
Read the Instruction Sheet
Product Features
Simple, one-button design.
Can speak the current date.
One daily alarm.
Spoken instructions guide you through every setting and feature.
Features a clear, high-quality male voice.
Watch is silver, with stainless steel stretch band.
Stylish face sports clear black numbers on a white face; hands are also black.
Built with quality Japanese movement, genuine Maxcell battery.
Classy, round metal body; solid steel construction.
To set voice time and alarm, depress tiny set button with pen, pencil, or stylus.
Pull out and turn small stem to set analog hands.
Choose from model for men or women.

Product Description:
Color: Silver watch and band.
"The time is 10:42 AM. The date is Monday, July 16." And the new talking watch you're looking at is absolutely fantastic!
This one-button talking watch stands head and shoulders above any other watch we carry. With the touch of a single button, you can hear the current time and date in a clear, male voice whenever you wish. The stylish face sports clear black numbers on a white face, simple contrasting colors that make it easy for anyone to see - even those with low vision. The hands themselves are also black, so they stand out smartly against the white face.
But great contrast and a super voice aren't the only noteworthy features about this watch. The round metal body looks classy on both men and women, and its solid steel construction may remind you of a much more expensive timepiece. The watch itself is a silver color, and comes with a stainless steel stretch band, making it easy to get on and off. It's built with quality Japanese movement, backed up by a genuine Maxcell battery. And again, the single raised button is the only one you need to worry about - the set button can only be pressed with the head of a pen or end of a paper-clip.
The daily alarm can be turned on and off and set, along with the time and date, by depressing the tiny set button with a pen, pencil, or stylus. There is also a small stem which can be pulled out and turned, to set the analog hands showing the time.
Stunning look with lots of features. Unbeatable quality with all-metal construction. Easy to see, easy to hear. There's just one thing left to say about this watch ... you simply can't go wrong. (Runs on one CR2025 battery, included and already installed.)
Package Weight: about 4.2 ounces.
We have two styles of this watch on the shelf, a larger one for men and a smaller one for ladies. Please select the one you'd like.
Mens
Item Number: 1007-1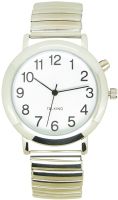 Face measures 1.1 inches (28 MM) in diameter.
Ladies
Item Number: 1007-2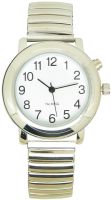 Face measures 0.9 inches (23 MM) in diameter.
Continue Shopping
(From the Talking Watches shelf.)