Star Wars, Han Solo, Rescue Mission, Braille Board Book
Item Unavailable.
We don't know when or if this item will be back in stock.
by John Whitman
Item Number: 5009
This is a Children's Braille Board book, which means that in addition to raised Braille, it has extra features. What is a Braille Board Book?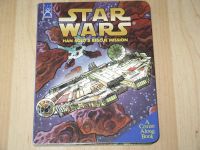 Larger Picture
Product Description:
Cruise along with the Millennium Falcon! Join Han Solo on a daring rescue mission. Use your very own Millennium Falcon to follow Han on a ride of his lifetime. He saves the Ithorians from the clutches of the evil Empire.
A Funworks (TM) Cruise-Along Board Book, this particular title will be a big hit with toddlers and even preschoolers, especially if they have older brothers or sisters who regularly watch the Star Wars TV shows, or are into collecting Star Wars action figures. Finally, here's a way to involve the whole family in the exciting universe of space exploration!
For ages 3 to 6.
(From the Board Books shelf.)