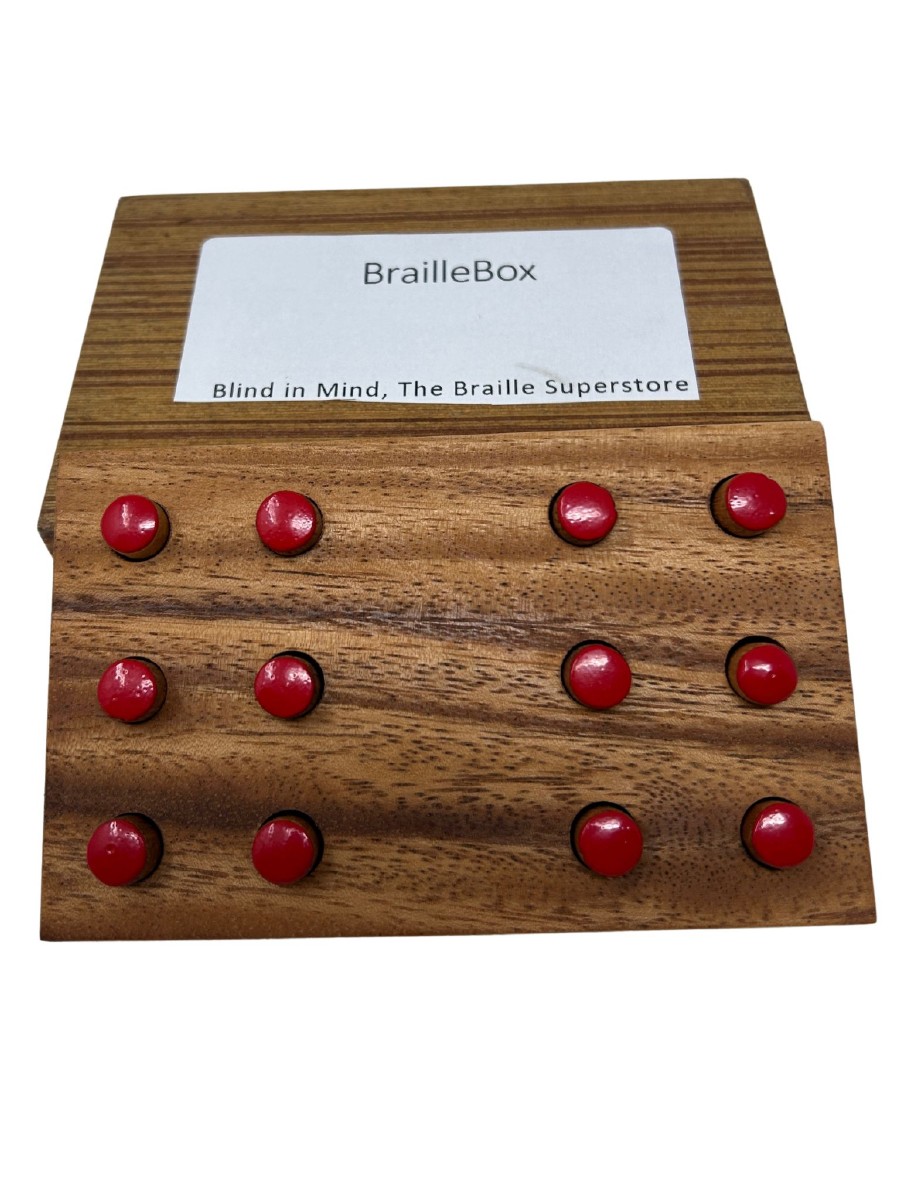 BrailleBox
Item Number: 1218
Product Features
All-wood, intricately-carved teak board with 12 wooden pegs.
Insert pegs into holes to create 2 separate Braille characters.
Board and pegs tuck neatly into wooden storage drawer.
BrailleBox is less than 2" thick and the size of a 3" by 5" index card.
Creates jumbo Braille characters; works well for children and adults.
In-house field-tested design; greatly enhances the process of learning Braille.
Measures about 5-1/2 in by 3-1/2 in by 2 in.
Package Weight: about 5.6 ounces.
Product Description
Make Your Own Braille!
Are you the type of person who's always looking for innovative new ways to introduce yourself (or your students) to the basics of Braille? Without a doubt, you'll be excited to get your hands on BrailleBooks.com's newest product - called the BrailleBox.
Basically, it's an all-wood board with twelve wooden pegs which can be inserted into any of the holes to create two separate Braille characters. (Each peg represents one of the dots in a regular Braille cell.) For safekeeping, the board and pegs tuck neatly into a storage drawer, also made of smooth, intricately-carved teak. And because the BrailleBox is less than 2" thick (and the size of a 3" by 5" index card), you can bring this portable set with you and practice your Braille anywhere you go.
With your BrailleBox, you'll be able to try your hand at creating and recognizing Braille letters, numbers, contractions, etc. What's more, each character made on this learning board is really a "jumbo Braille" cell. So anyone who hasn't yet developed the sensitivity in the fingertips to make out the tiny dots in a regular Braille cell will find it easy to identify any character made on the BrailleBox.
The BrailleBox is truly an invaluable learning tool - and at the price, it's more than seven times cheaper than anything else like it out there. For anyone (blind or sighted, child or adult) this is the most useful Braille teaching device you'll ever have. Besides, it's just plain fun to play with!
Related Products:
Twelve Spair Wooden Pegs, Packed in Plastic Case
Item Number: 2054
$2.95
Make 30 Jumbo Braille Characters Out of Metal Dots
Item Number: 1219
$14.95