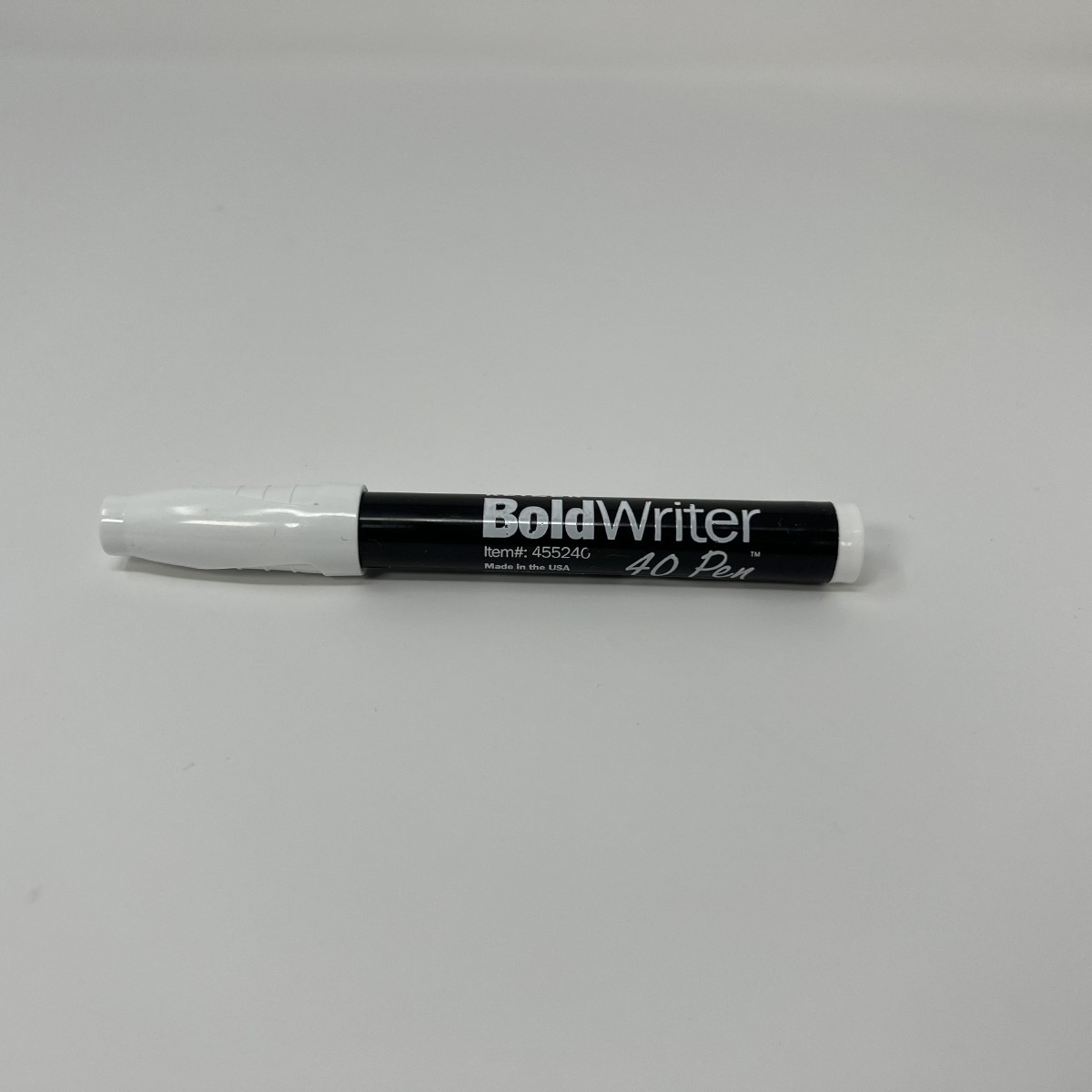 BoldWriter 40 Pen
Item Number: 1189
Product Features
Ultra-bold point produces highly legible 2 MM line width.
Easy-to-see big and bold writing with incredibly vivid, high-visibility black ink.
Quick-drying - no smudges and doesn't bleed through paper.
Easy-to-grip design - great for seniors or anyone with dexterity challenges.
Superior quality - made in the USA.
Package Weight: about 0.7 ounces.
Product Description
If you're going to write, write boldly!
The BoldWriter 20 Pen has proved very popular in the low vision community (with its 1 MM line thickness). But now we've supersized the BoldWriter 20 and it has an even bolder big brother - the BoldWriter 40.
The BoldWriter 40 Pen is a notably smooth writer that creates easy-to-see, easy-to-read, ultra-bold, highly visible, 2 MM, broad black lines - making it ideal for the visually impaired. This pen doesn't smudge or bleed through most paper. Its exclusive ink formulation provides high-contrast, rich black ink that flows smoothly from its ultra-bold point. The pen's barrel provides just the right amount of surface area to grip, making it easier to hold than many other pens.
The BoldWriter 40 may very well become your favorite go-to pen whenever you want your writing to practically jump off the page. It's just what you need for large-print calendar appointment entries, labels, shopping lists and more. The cap has a handy clip, convenient for shirt pockets or to attach to paperwork. Perhaps best of all, this superior-quality, non-toxic pen is Made in the USA.
Related Products:
Highly-Visible Bold Black Lines - Quick-Dry Ink
Item Number: 1134
$1.95
Stay Within the Lines as You Practice Handwriting
Item Number: 1133
$7.95 for 25 Sheets (Larger Package Available for Better Price)