Talking Pocket Calculator
Small Rubber Buttons, Lightweight and Portable
Item Number: 1046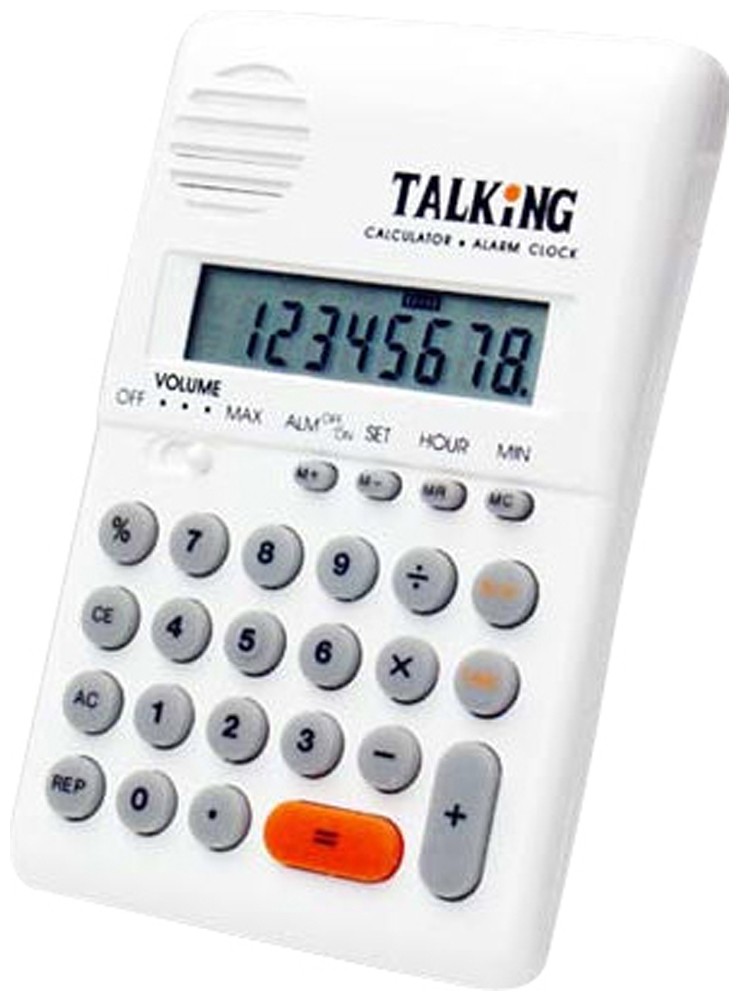 Listen to this Product
Read the Instruction Sheet
Product Features
Small, robust, pocket-sized.
Only half an inch thick.
Features female voice, and 8-digit display read out digit by digit.
Boasts volume control/off switch and built-in memory.
Large LCD screen with 1/2" high numbers.

Product Description:
If you don't want to be caught flat-footed when adding up your purchases or writing a check, this hand-held talking Calculator has your name on it. Ultra-compact, it's just half an inch thick, and measures 3" by 5".
This eight-digit talking calculator's perky female voice speaks each key you press as you're entering a calculation, and the answer is read out digit-by-digit. Other handy features include a volume control/off switch, a large LCD screen with half-inch high numbers, and the built-in memory for you to store the results of the last calculation you ran.
Because of its small size, this robust calculator will easily fit in your pocket, backpack or purse, sit on the table by the phone - or tuck into a desk drawer with a million other things. And it's definitely not a toy; this is the calculator we recommend for anyone with a lot of serious work to do. (Uses two AAA batteries - not included.)
Measures about 5 in. by 3 in. by 3/4 in.
Package Weight: about 4.2 ounces.
(From the Math and Measuring shelf.)
Related Products: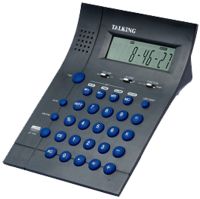 Talking Desk Calculator
Large Buttons and Display,Built-In Alarm Clock
Item Number: 1045
$12.95
Tell Me More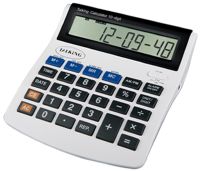 Deluxe Talking Calculator
Temporarily out of stock. Usually ships in Mid April.
10-Digit Display, Clear Speech, Has Headphone Jack
Item Number: 1047
$19.95
Tell Me More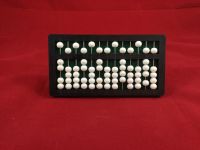 Math Abacus
Used in Schools when Calculators Aren't Allowed
Item Number: 1048
$9.95
Tell Me More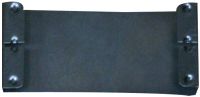 Abacus Coupler
Join Two Abaci Together for Longer Equations
Item Number: 1049
$1.95
Tell Me More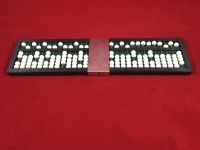 Abacus Kit
Includes Two Math Abaci and an Abacus Coupler
Item Number: 1050
$19.95
Tell Me More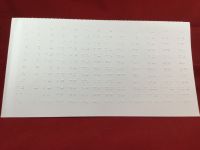 Braille Times Table
Shows Equations up to 12 Times 12
Item Number: 1051
$1.49
Tell Me More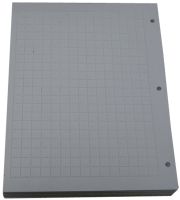 Raised-Line Graphing Paper
Large, Raised Squares - Three-Hole Punched as Well
Item Number: 1052
$13.95 for 25 Sheets (Larger Package Available for Better Price)
Tell Me More