Sign Language Reference Cards, Twelve-Pack
Detailed ASL Reference for the Basics - and Beyond
Item Number: 1238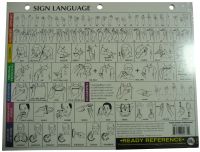 More Pictures
Product Features
Pack of 12 identical double-sided reference cards.
Each card measures 8-1/2" by 11".
Cards are laminated and three-hole punched.
Each card contains hundreds of the most frequently-used ASL signs.
Cards show both print and ASL, and explain Fingerspell.

Product Description:
Want to take your sign language journey a little further? If so, this comprehensive ready-reference card is just what you've been looking for.
On this single card, you'll find hundreds of the most frequently-used ASL signs. The blackline illustrations feature signs for the alphabet, numbers, colors, personal pronouns, possessives, interrogatives, days of the week, holiday greetings, and other commonly used words, phrases, and directives. Fingerspell is also explained (which makes it possible for you to spell out any word you don't know the sign for).
Whether your child has a new friend who's deaf, or your class just wants to know a little more about American Sign Language should the need to use it ever arise, students can keep all the pertinent ASL facts right at their fingertips with this colorful, double-sided quick-reference card. There are twelve cards per package, and each measures 8-1/2" by 11". The cards are pre-punched for a three-ring binder, and are laminated for years of use. (Note: there is no Braille on these cards - only standard print and ASL.)
Package Weight: about 5.6 ounces.
(From the ABC's of Braille shelf.)
Related Products:
Fatal error: No other related products found for class ASL