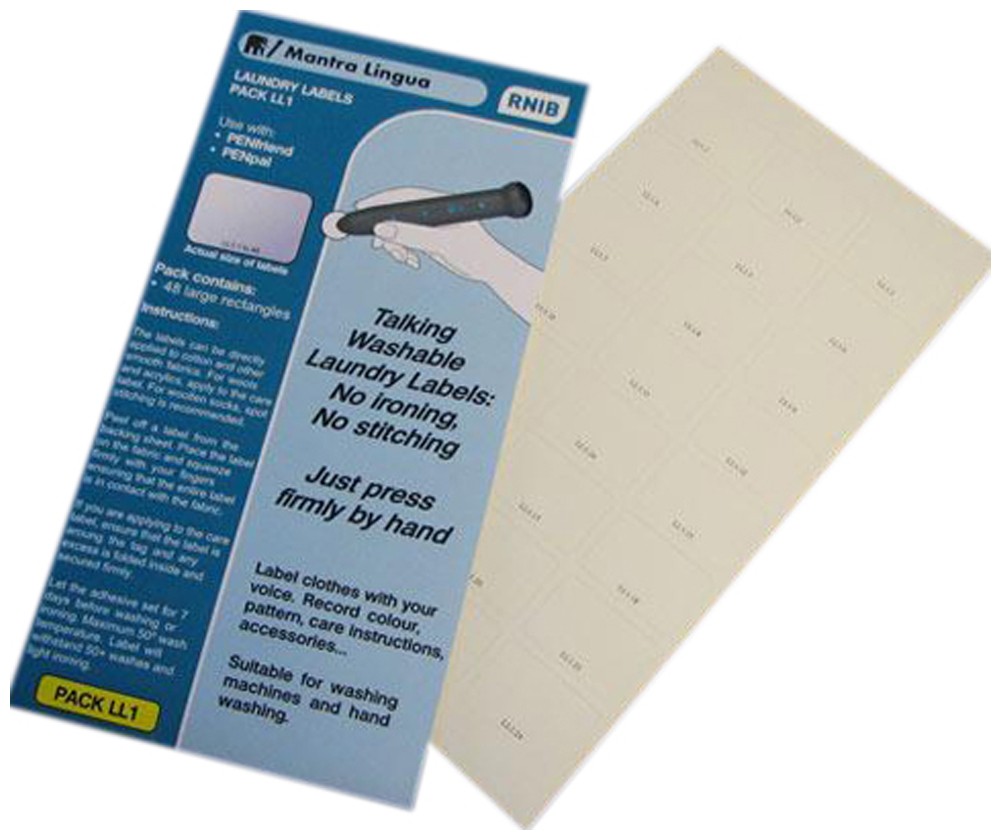 PenFriend Laundry Labels
Item Number: 1112
Product Features
record your own voice labels on clothing.
Pack of 48 self-adhesive labels; use with PenFriend Audio Labeler.
Powerful adhesive that bonds to material.
Apply directly to cotton and other smooth fabrics.
For wools and acrylics, apply to clothing tag.
Hand or machine wash and dry 7 days after application; will withstand 50+ washes up to 50 degrees.
Do not dry clean.
Rectangular labels measure 1.1" X 0.8"; should be used within 6 months of opening.
Package Weight: about 1.1 ounces.
Product Description
These machine-washable labels are an excellent addition to your PenFriend labeling system! Use your PenFriend to record the pattern, color and care instructions of your entire wardrobe onto these self-adhesive labels, and never leave the house with odd socks or a mismatched outfit again!
The PenFriend is a simple and easy-to-use labelling pen that enables you to record your own self-adhesive voice label on a wide range of items in and around the home, at school and at work. Now, with these special laundry labels, your PenFriend can help you select an outfit, too!
This is a pack of 48 self-adhesive labels, for use with the PenFriend Audio Labeler. No ironing or stitching is required, the labels have a powerful adhesive that bonds right to the material. Labels can be applied directly to cotton and other smooth fabrics. For wools and acrylics, apply to the care label or clothing tag. Labeled clothes can be hand or machine washed and dried seven days after application, and each label will withstand 50 plus washes up to 50 degrees. They are not suitable for dry cleaning, however. Each rectangular label measures 1.1 by 0.8 inches, and should be used within six months of opening.
Note: - these labels are slightly different from the standard PenFriend labels. The material is thicker, and the labels are die-cut meaning that the excess labelling material surrounding individual labels has been left in place. You will need to locate the edge of the label that you want to use, remove it from the backing sheet and attach to your clothing before recording.
Related Products: