Object Locator
3 in 1 Package Finds Keys, Wallet, and Cell Phone
Item Number: 1062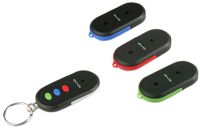 Larger Picture
Listen to this Product
Product Features
Locate misplaced objects with just the press of a button.
Pager can locate items up to 30 feet away.
Package includes one paging remote and three receivers.
Pager comes complete with metal keyring.
Attach receivers to easily-misplaced items with included loops, lanyards, or double-sided tape.
High-contrast pager is color-coded to aid the visually impaired.

Product Description:
There's nothing more frustrating than running out the door to catch a bus, only to discover with dismay that you don't have your wallet with you. And that you have no idea where it is. And that you have less than 30 seconds to find it, or your whole afternoon is ruined. If only you could tell it you needed it, and have it answer! Well, actually, you can.
This three-in-one package comes complete with one paging remote, and three receivers. The receivers themselves are tiny, measuring an inch wide and less than half an inch thick. Simply attach them to the TV remote, your son's bike key, and even your wife's purse. Then, whenever an item goes missing in the house, simply press the appropriate button on the color-coded pager - and listen for the loud beeping noise of the receiver. You'll have the remote fished out from behind the couch before you know it, grab your sunglasses off the table, and find your wallet just in time to catch the bus.
The pager is just over two inches long and thinner still than the receivers, so nothing in this package is bulky or inconvenient to use. The pager boasts a large, sturdy keyring on top, making it easy to take with you or clip somewhere you can always find it. Each receiver has a tiny hole on top you can clip to easily-misplaced objects with the included rings and lanyards, or you can stick them to larger objects with the included double-sided tape. Stick them on and relax. Your days of hunting for small items in a cluttered room are over! (Package runs on four CR2016 button-cell batteries, which are included.)
Package Weight: about 2.8 ounces.
(From the Electronics shelf.)