Wireless Sound Beacon
Item Unavailable.
We don't know when or if this item will be back in stock.
Audible Pager: Locate Soccer Net, Luggage and More
Item Number: 1273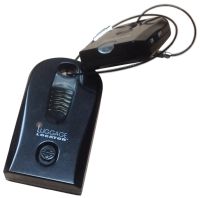 Larger Picture
Listen to this Product
Product Features
Lightweight, portable unit, both cool and practical.
Box measures 2" wide, 3" long, and 1" thick.
Put box somewhere or attach it to something you want to find, then press button on hand-held remote.
Simply follow the audible beeps to find object or location.
Loop is provided for both beacon and remote; can easily attach to keyring with included plastic rings.
Unit has a guaranteed range of 60 ft.
(20 m.
); loud enough to be easily heard.
Use handy on-off switch to conserve battery power.
Features flashing light when beeping.
Enhance independence and freedom; find everything you're looking for.

Product Description:
Camping! Hiking! Horseback riding! Even ball games! The list is endless. No matter what outdoor sport you enjoy, you should grab one of these gadgets before you go.
Our Wireless Sound Beacon is one of the most versatile toys we carry. The beacon itself is a box, measuring under two inches wide and three inches long, and less than an inch thick. Place it on any flat surface, or attach it to almost any object, and take the hand-held remote with you. When you want to go back to the picnic table, find your backpack, pinpoint the lead horseback rider, or aim for the soccer net, just press the button on the remote control in your hand. The beacon will immediately emit a series of beeps, so you'll know exactly where the object in question is.
On both the beacon and its remote, you'll find a loop, which you can easily attach to a keyring - especially with the included plastic rings. The unit has a guaranteed range of sixty feet (20 meters), and is loud enough to be easily heard. It even has an on-off switch to conserve battery power. A must-have for those of us who love the outdoors, handy for finding everyday objects like purses, and great if someone in your care is sick and wants to call you for help, this lightweight, portable unit is both cool and practical. Beacon takes 1 AAA battery, remote takes one A27 12V battery, both of which are included.
Measures about 2-3/4 in. by 1-3/4 in. by 3/4 in.
Package Weight: about 5.3 ounces.
(From the Sporting Goods shelf.)
Related Products: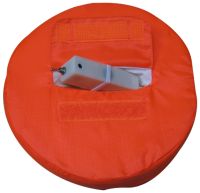 Beeping Frisbee
Soft Foam Frisbee - Which Beeps at All Times
Item Number: 1274
$14.95
Tell Me More

BeeperBox
Small Beeping Box: Great for Sports, O-M, and More
Item Number: 1283
$6.95
Tell Me More