Travel Solitaire
Item Unavailable.
We don't know when or if this item will be back in stock.
Small pocket-sized Game; Great for Kids and Adults
Item Number: 6015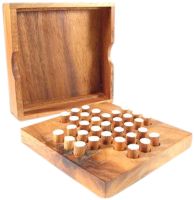 Larger Picture
Learn How to Play Solitaire
Product Description:
Now you can take your favorite solo game with you to school, on long car trips, or to a friend's house! This smaller version of Solitaire features thinner wooden pegs and a wood game board that's only four inches square. When playing the game, simply rest the board inside the rim of the storage box for an extra-sturdy table. And when you're finished, just flip the board over to turn it into a lid - and you'll have a superb way to keep all the pieces from going missing!
Measures about 4-1/2 in. by 4-1/2 in. by 1-1/4 in.
(From the Brain Teasers shelf.)
Related Products: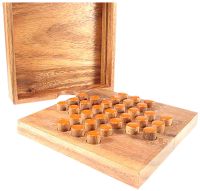 Solitaire Board Game
Try to Clear the Board of All but 1 of the 32 Pegs
Item Number: 1264
$9.95
Tell Me More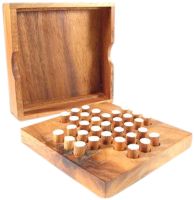 Travel Solitaire
Item Unavailable. We don't know when or if this item will be back in stock.
Small pocket-sized Game; Great for Kids and Adults
Item Number: 6015
$8.95
Tell Me More