The Greatest Bible Stories Ever Told! Volume One, Audio Book
Item Unavailable.
We don't know when or if this item will be back in stock.
by Darian Entertainment
Item Number: 5015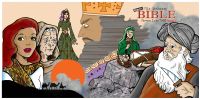 Larger Picture
Listen to this Product
Product Description:
From the radio airwaves to your CD player comes DMS Radio Entertainment's most popular radio program. The good folks at DMS have been producing radio programs and commercials for years. After airing this program on KDIA in San Francisco, the greatest twenty-five episodes are compiled here in a one-of-a-kind four-CD box set.
Over six hours of comedy, drama, action and adventure come to life playing on the greatest screen ever invented ... your imagination. Listen as Noah prepares for the massive flood that destroys the Earth; join David as he defeats Goliath in battle. This is definitely NOT the way you heard them in Sunday School ... It's better!
Episodes include:
1. Adam and Eve
2. Noah's Ark
3. The Story of Samson (Part One)
4. The Story of Samson (Part Two)
5. The Story of Samson (Part Three)
6. The Story of Samson (Part Four)
7. The Birth of Samuel
8. The Death of Eli
9. The King of Israel
10. King Saul
11. Samuel Anoints David
12. David and Goliath
13. Saul's Jealousy
14. The Power of Friendship
15. David and Jonathan
16. Saul Pursues David
17. From the Hunter to the Hunted
18. David Among the Philistines
19. The Death of Saul
20. Job (Part One)
21. Job (Part Two)
22. Fab Four
23. The Image of Gold and the Fiery Furnace
24. Daniel in the Lions' Den
25. Jonah
For listeners who are already familiar with the well-known stories, such as Adam and Eve, Noah's Ark, Jonah and the whale, Daniel in the lion's den, the audio versions of these stories on The Greatest Bible Stories Ever Told are very entertaining and fun. Kids and adults alike will appreciate the professional voice talent, sound effects and careful attention to detail - all of which combine to make this a set that belongs in anyone's audio library!
However, even though those famous stories from the Bible are skillfully brought to life on these CD's, the stories you'll hear do not deviate from the actual way the events took place, as related in the ultimate authority: the Bible itself. Great care was taken to preserve the accuracy when these dramatizations were produced. So ... this set is just a really fun new way to enjoy good old Bible stories - and this is something we feel is just as important as the entertainment value they present!
(From the shelf of ghost products)
Related Products:
Fatal error: No other related products found for class AudioBibles