Talking UFO Clock
Temporarily out of stock.
Usually ships in Mid April.
Large Display, Press to Hear Time and Temperature
Item Number: 1013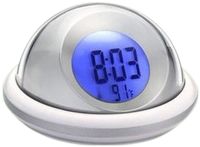 Larger Picture
Listen to this Product
Read the Instruction Sheet
Product Features
Speaks time and temperature.
Can announce time every hour.
One daily alarm.
5 different alarm sounds.
Can speak time in either 12 or 24-hour format.
Can set temperature to Fahrenheit or Celsius.
Hourly Report only goes off between 7:00 AM and 9:00 PM.
Features sleek modern design; thick and durable plastic construction; built to last.
Circle clock stands 3" tall; sports a space-age dome for the top.
Just press clock anywhere you like, and it will speak time and temperature in a clear, female voice.
Sits on three rubber feet.
When pressed down, also activates the talking feature.
Set features of clock with 3 small buttons on the bottom.
Features large, backlit, digital display for folks with low vision.
Beeping alarm starts off quiet, then grows louder.
Takes 2 AAA batteries (not included).

Product Description:
Color: Silver with white around the edge.
Long gone are the days when talking clocks were clunky, basic and hard to understand. This brand new circle clock stands almost three inches tall, and sports a space-age dome for the top. In the front of the dome is a large backlit display - excellent for low-vision folks. The clock sits on three rubber feet, keeping it from sliding around. But wait - the rubber feet are very special. When you press down on the clock, they serve as buttons to activate the talking feature. After a short tone, the clock announces "10:45 AM. 72.9 degrees Fahrenheit."
There are several things about this clock that make it special, in addition to its sleek modern design and talking time and temperature. First, lots of folks are looking for a clock with only one talk button, so it's easy to find and press without bumping anything else. The cool thing about this clock is, when it's sitting on a desk, there are no buttons visible at all. Just press the clock anywhere you like, and it will immediately speak the time and temperature in a clear, female voice. And, unlike any other clock we carry, the beeping alarm starts off quiet, then grows louder and more insistent. This lets you shut it off quickly without disturbing anyone else, but makes sure to wake you if you don't hear it right away. Finally, you can set the hourly report to only automatically announce the time between 7 AM and 9 PM - and it will keep quiet while everyone is sleeping.
Using the three small buttons on the bottom of the clock, you can easily set the time and alarm, toggle hourly announcement, select between Fahrenheit and Celsius temperature display and announcement, and switch between 12 and 24-hour time format. You can even choose your favorite sound to wake up to with the daily alarm: beep, cuckoo, or one of three classical music pieces - which are actually very well done and sound great on the large speaker. Finally, the thick-plastic construction is designed to last - this is not a cheep product that will self-destruct the first time it falls off your desk. Easy to set and impossible to change by mistake, loaded with features and packed into a classy body, this clock is one that's sure to bring enjoyment to your family and friends for years to come. Takes 2 AAA batteries, which are not included.
Measures about 5 in. by 2-3/4 in.
Package Weight: about 7.4 ounces.
(From the Talking Clocks shelf.)