Talking Medical Thermometer
Takes Temp in Under a Minute, Speaks in Fahrenheit
Item Number: 1070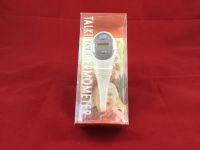 More Pictures
Listen to this Product
Read the Instruction Sheet
Product Features
Thermometer speaks body temperature in a clear female voice.
Unit speaks temperature in either Fahrenheit or Celsius.
Speaks and displays results in 30 seconds.
Easy-to-use two-button design.
Intended for oral or underarm use.
A must-have for anyone who cares for children.

Product Description:
This talking clinical thermometer makes temperature-taking fun and easy for kids and adults. It's also an indespensible tool for the blind or visually impaired individual, especially if you have children of your own, or care for kids on a regular basis.
This model's two-button design makes it extremely easy to use. Simply press the left button to turn the unit on, wait for the confirming beeps, then press the right button to begin taking your temperature. In about thirty seconds, you'll hear four beeps, followed by your body temperature announced in a very clear, female voice. The temperature will then be repeated once more, and the unit will automatically shut off after eight minutes, if you forget to turn it off yourself, that is.
The thermometer is intended for oral or underarm use, and announces and displays your temperature in either Fahrenheit or Celsius. Yes, the unit is FDA-approved for the United States, and CE-certified for Europe. (Runs on two AG12 button-cell batteries, included.)
Package Weight: about 2.1 ounces.
(From the Drugstore shelf.)
Related Products: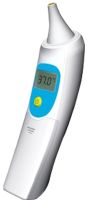 Talking Ear Thermometer
Takes Your Temperature in Seconds, Reads it Aloud
Item Number: 1071
$24.95
Tell Me More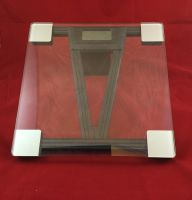 Talking Bathroom Scale
Step On - And Hear Your Weight in a Few Seconds
Item Number: 1072
$42.95
Tell Me More