Talking Ear Thermometer
Takes Your Temperature in Seconds, Reads it Aloud
Item Number: 1071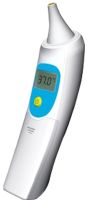 Larger Picture
Listen to this Product
Read the Instruction Sheet
Product Features
Guaranteed temperature in just 3 seconds.
Reads aloud with a pleasant female voice.
Can announce temperature in either Fahrenheit or Celsius.
Test head can swivel for ease of use.
Unit remembers the last reading taken.
Safe, easy to use, accurate, and fast.

Product Description:
Let's face it folks - being sick isn't much fun for anyone. Runny nose, sick to your stomach, no energy - the list of woes just goes on and on. And, on top of it all, you're forever holding a pointy thermometer under your already-sore tongue, waiting for what seems like an eternity to get your temperature. Well, for that last point at least, we have an affordable solution.
This infrared thermometer is guaranteed to accurately take your temperature in three seconds, often quicker. Simply hit the power button on the bottom to turn on, and wait for the pleasant female voice to say "Please measure." Gently place the test head in the sick person's ear, and press the Scan button on top. You will hear a beep, and before you can take a breath, the unit beeps again. The scan is complete. By the time you remove the thermometer to look at the LCD display, the unit has already announced the result. Before your three-year-old even has a chance to squirm, you already know how high the fever is. A must-have for kids, a welcome relief for you and I, and of great importance to the elderly, this insta-read medical thermometer will make the awful experience of being under the weather just a little more bearable.
Your new thermometer will automatically remember the last reading when it turns on, so it's easy to figure out whether the fever is going up or down. The test head can swivel, making it possible to get the right angle if the person is in an awkward position. It has no glass and no mercury, so it's completely safe. Finally, the unit has a measuring range of 90.0 to 111.2F (32 to 44C) and boasts an accuracy of 0.2 DGF between 95.9 and 109.4F (0.1 DGC between 35.5 and 43.0C). Takes two AAA batteries, which are not included.
Package Weight: about 4.6 ounces.
(From the Drugstore shelf.)
Related Products: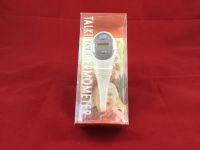 Talking Medical Thermometer
Takes Temp in Under a Minute, Speaks in Fahrenheit
Item Number: 1070
$11.95
Tell Me More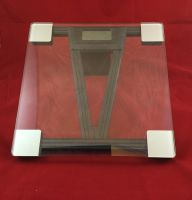 Talking Bathroom Scale
Step On - And Hear Your Weight in a Few Seconds
Item Number: 1072
$42.95
Tell Me More