Talking Braille Watch
Either Touch Hands, Or Press Talk, to Get the Time
Item Number: 1026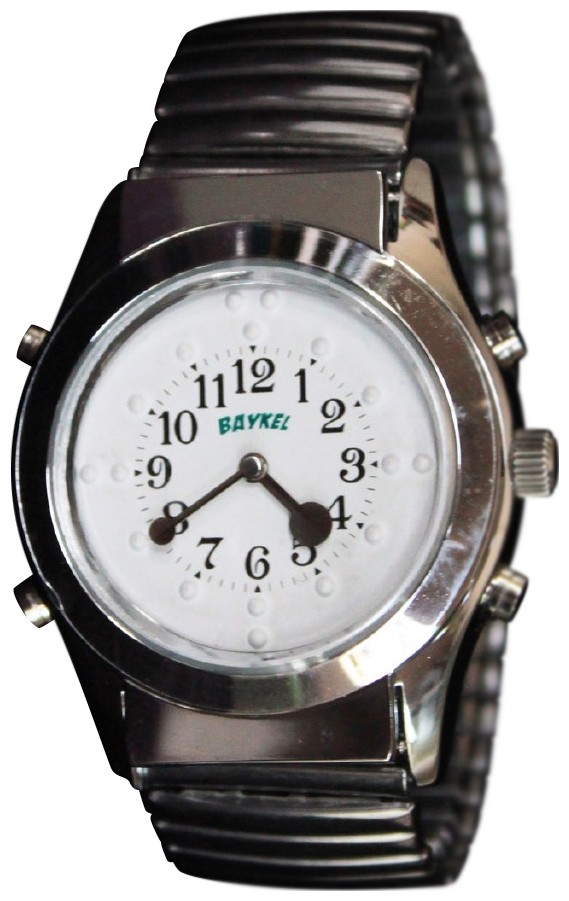 Listen to this Product
Read the Instruction Sheet
Product Features
Unisex design makes watch suitable for both guys and gals.
Time is given by both spoken voice and tactile hands.
Face opens at the 6 o'clock position.
Tactile markings make it easy to tell the time by touch.
Quality quartz movement always keeps the correct time.
Can announce time every hour.
One daily alarm.
2 different alarm sounds.
Stretchy metal band is easy and comfortable to wear.
Features analog design (dial and hands).
Boasts silver watch and band, with clear female voice.
All the convenience of a talking watch, yet all the benefits of a Braille one.
Revolutionary and ground-breaking, more versatile than any other watch for the blind.

Product Description:
Color: Shiny chrome/silver, silver band.
It's early in the morning, and the kids are fast asleep. You're happy to be able to lift the face on your new Braille watch to find out quietly how much longer you can sleep. Later on, however, you're running to catch the bus, and time is critical. A quick tap of the Talk button causes the time to be spoken aloud. Before, it was one or the other. But now, with this new, affordable timepiece, you can do both.
That's right, this inexpensive, durable watch boasts both tactile hands and spoken announcement of the current time. Now, you can set an audible alarm on your watch, but check the time without making a sound. You can discretely figure out how much longer your boring meeting is, and later listen to the time when your hands aren't perfectly clean. You have all the convenience of a talking watch, and all the benefits of a Braille one.
This watch comes with a stretchy metal band, so it's simple to get on and off. Four buttons around the face allow you to listen to the current time, set the spoken time and daily alarm, and control the optional hourly-report feature. A pull-out stem at the 3 o'clock position lets you easily set the hands to the correct time. Tactile dots on the watch face clearly mark each hour, with double dots every 3 hours and three dots at the twelve o'clock position. The face opens at the six o'clock position, with the hinge at twelve o'clock.
Please remember that, due to the amount of features offered, this watch is a bit taller than normal. We've kept it as small as possible, but it might look a bit bulky on a petite lady. (Runs on a single Renata 364 button-cell battery, which is both included and installed.)
Package Weight: about 5.3 ounces.
(From the Braille Timepieces shelf.)
Related Products: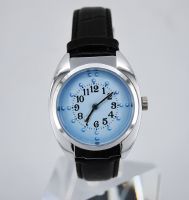 Braille Wrist Watch
Lift the Lid to Touch the Time - For Men and Women
Item Number: 1024
$39.95
Tell Me More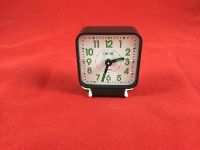 Braille Alarm Clock
Lift the Lid to Touch the Time - Noiselessly
Item Number: 1027
$14.95
Tell Me More