Talking Blood Pressure Monitor
Item Unavailable.
We don't know when or if this item will be back in stock.
Pressure and Pulse Measurement, Precise and Fast
Item Number: 1081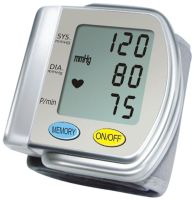 Larger Picture
Listen to this Product
Product Description:
"Stay still and do not talk until the measurement is complete." (Cuff inflates). "Systolic pressure was 128 MM of mercury. Diastolic pressure was 78 MM of mercury. Pulse was 80 beats per minute." Those with sight have had access to this critical information for years, from inexpensive monitors at department stores to public stations at malls throughout North America. Now, however, this portable, affordable gadget is available to all!
Your new blood pressure cuff comes in a plastic clamshell case, just a little larger than a watch case. This makes it easy to take with you wherever you go, if need be. The unit itself resembles a very large watch, with a long Velcro band. Simply place the monitor on the underside of your wrist, and secure the Velcro strap. With the touch of a single button, the unit inflates the cuff, monitors your blood pressure for a few seconds, then reports systolic pressure, diastolic pressure, and pulse. All this information is shown on the large display, as well as spoken aloud in a female voice that's easy to understand. The result is automatically saved, so you can recall the last 60 results. The unit automatically switches off after 1 minute to conserve battery power.
The measuring range is 0-299 mmHg, 40-180 beats per minute. The device is certified according to applicable standard (EN 1060/MDD/CE 0123). Finally, it takes 2 AAA batteries, which are not included.
(From the Drugstore shelf.)
Related Products:

Braille Pill Box
Organize Your Medication in this Travel-Sized Kit
Item Number: 1082
$0.99
Tell Me More