Standard Slate, Metal
4 Lines, 28 Cells - Universal Size, Yet Portable
Item Number: 1074

Product Features
Rugged, all-metal construction.
Made of aluminum, compact and portable.
Easily fits into a purse or backpack.
Allows you to Braille on a regular 8.
5" by 11" sheet of paper.
Has slots in the top that let you Braille on labeling tape.
Measuring 9" by 2", slate lets you write four lines at a time.
Choose either pins up (standard) or pins down (for beginners).
Comes with a durable Classic Stylus.

Product Description:
This four-line, twenty-eight-cell aluminum slate is nice and compact, which means it can easily fit into a purse or backpack so you can take down notes or memos anywhere you go. But you'll use it most often for writing letters, reports, or anything else you'd want to Braille on a regular 8.5" by 11" sheet of paper. Our
Standard Slate
also has the slots in the top which allow you to Braille on labeling tape. Plus, this slate's rugged, all-metal construction has earned it best-selling status among all of the items in our entire Braille writing equipment product line.
Because our Standard Slate lets you write only four lines at a time, you do have to open it up to move it down the page every few lines. But you sure can't beat this slate's small size, which makes it wonderfully portable!
Measures about 9 in. by 2 in.
Package Weight: about 2.1 ounces.
Now it's time to decide whether you want your new slate to have pins up or pins down.
Pins Up
Item Number: 1074-1
Very briefly, this is the usual style. The four pins that hold the paper in place are on the bottom of the slate, which is the way all our other slates are. This design makes it faster to move the slate down the page to continue writing. (If you're at all unsure which type to get, just go for Pins Up - it's the norm.)
Pins Down
Item Number: 1074-2
This means the four pins that secure the sheet of paper are on the top of the slate. Many beginning Braille readers prefer this type of slate because it's easy to proofread and make corrections if necessary. Just flip the slate over, lift the top, and read what you've written. The pins will hold the paper steady while you read or correct mistakes.
Continue Shopping
(From the Writing Braille shelf.)
Related Products: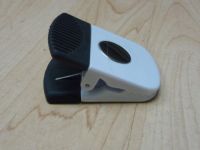 Magna-Clip
Stick Notes to the Fridge, Keep Brochures Together
Item Number: 6009
$2.95
Tell Me More

Standard Slate, Plastic
4 Lines, 28 Cells - Less Expensive, Still Durable
Item Number: 1075
$6.95
Tell Me More

Jumbo Slate
Makes 4 Lines, 18 Cells of Jumbo Braille
Item Number: 1076
$9.95
Available Styles: Pins Up, or Pins Down
Tell Me More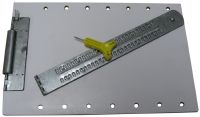 Clipboard Slate
2 Lines, 29 Cells - Comes with Wooden Clipboard
Item Number: 1077
$14.95
Tell Me More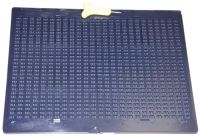 Full-Page Slate, Letter-Size
25 Lines, 28 Cells--Braille a Whole Page in One Go
Item Number: 1078
$19.95
Tell Me More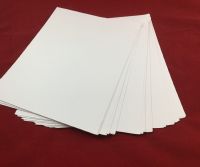 Braille Paper, Plain
Measures 8.5" x 11" - For Slates or Braillewriters
Item Number: 1080
$3.95 for 50 Sheets (Larger Package Available for Better Price)
Tell Me More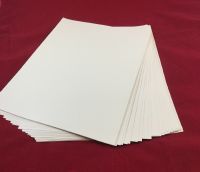 Braille Plastic, Plain
Measures 8.5" x 11" - For Sharp, Durable Braille
Item Number: 1083
$8.50 for 50 Sheets (Larger Package Available for Better Price)
Tell Me More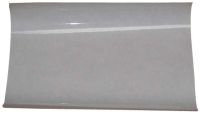 Braille Labeling Sheets
Braille, then Cut to Size, for Touch Pads and More
Item Number: 1111
$1.95 for 1 Sheet (Larger Package Available for Better Price)
Tell Me More