Slide Out
Great Strategy Game: Move the Large, Flat Square
Item Number: 6035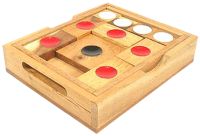 Larger Picture
Product Description:
?F: Great pocket-sized strategy game.
Comes in a wooden box with lid acting as game board.
Recommended for kids and adults.
Measures only 4 by 5 inches and an inch thick.
Move the big purple square down 3 rows and out the bottom, if you can.
Here is an awesome pocket game. As usual, it is entirely self-contained in a wooden box, the lid of which is the game board. You'll want to start at the top of the board, for that's where you'll find the big purple square - the most important piece of the game. Your goal is to move that square down three rows to the bottom of the board - and out the little slot at the bottom. What makes this difficult is the other pieces: the 5 red, rectangular ones, and the 4 small, white ones. Their job (which they do very well) is to get in the way of the large, thin square - the only one that can fit through the slot at the bottom. You must carefully slide the smaller pieces out of the way, so the larger pieces can gradually take their place, and start moving towards the bottom. Recommended for kids and adults alike, this game, measuring only 4 by 5 inches and just an inch thick, is easy to bring everywhere. You'll spend at least half an hour sliding the wooden blocks around the board, before the large, thin "king pin" finally moves down far enough ... and slides out!
Measures about 5 in. by 4 in. by 1 in.
Package Weight: about 6.7 ounces.
(From the Brain Teasers shelf.)
Related Products: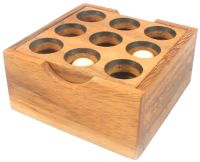 Ball-Up
Stack in the Blocks, Don't Let the Bumps Stop You
Item Number: 6034
$7.95
Tell Me More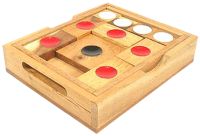 Slide Out
Great Strategy Game: Move the Large, Flat Square
Item Number: 6035
$8.95
Tell Me More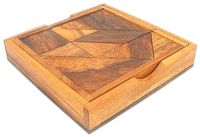 Wooden Tangram
Old Chinese favorite, Triangles Make Larger Shapes
Item Number: 1195
$8.95
Tell Me More