Recording Keychain
Remember Shopping Lists, Phone Numbers and More
Item Number: 6012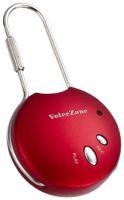 Larger Picture
Read the Instruction Sheet
Product Features
Stylish digital message-recording keychain.
Features first-class, high-quality digital recording technology.
Records message for 10 seconds (20-30 words).
Gives playback option with 'Play' button.

Product Description:
Okay - so you have no idea what to buy for your friend or loved one. You want something truly useful and unique, but you'd like to be sure that he or she won't already have it. Well, here's the answer!
This stylish digital message-recording key chain is a great memory jog - at home or away! At the touch of a single button, it'll use first-class, high-quality digital technology to record any message up to ten seconds in length (twenty to thirty words). Then you just tap the "Play" button to hear it back whenever you want.
Perfect for tucking into your pocket, this small keychain is in the shape of a padlock. The good-sized speaker is found on the back; there are separate buttons for playing and recording, and a metal loop is attached for hooking onto your keyring - or for simply putting a key or two onto.
After having a recording key chain with you for a few days, you'll wonder how you ever got along with out it. If you're out and about, and you run into an old friend, the key chain will make it simple for you to exchange addresses and phone numbers. If you're on a shopping trip, you can record a quick list on your key chain before you leave home - just so you won't get back and realize you forgot all about the butter. If you write a check out to someone and want to remember how much it was for ... If you'd like to be able to remind your sighted friends where they parked the car ... Or if you want a great conversation-starter and a new way to amuse the kids ... This handy key chain (with an attractive silver finish) will be a big help! (Runs on two CR2025 button-cell batteries - included.)
Package Weight: about 2.1 ounces.
(From the Voice Recorders shelf.)
Related Products: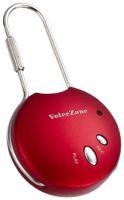 Recording Keychain
Remember Shopping Lists, Phone Numbers and More
Item Number: 6012
$4.95
Tell Me More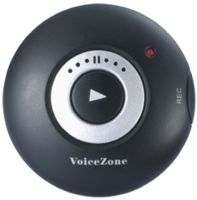 Digital Memo Magnet
Leave a Note on the Fridge with this Recording UFO
Item Number: 1141
$4.95
Tell Me More