Recording Flash Drive
Flick Switch to On, Record up to 70 Hours
Item Number: 1140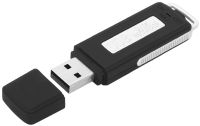 Larger Picture
Read the Instruction Sheet
Product Features
Easy to use, versatile and lightweight, pinky-sized thumb drive.
Features one switch to turn on and off.
Just turn on, count to three, and start recording.
Connect to computer through USB to play recordings and to recharge unit.
Large 4-gigabyte flash capacity.
Can also be used as a data transfer device.
Stores audio messages up to 70 hours, or audio messages in combination with movies and other clips.
Can be clipped to keyring with handle.
Features removable protective plastic top.
Special built-in battery provides 10-15 hours of recording time.
Boasts no-skid surface.
Measures 3" X 1".
An absolute must-have for any blind person.

Product Description:
This is the simplist digital recorder you'll ever find. The unit comes with a grand total of one switch, and absolutely no buttons. Simply flick the sliding switch at the top of the unit to On, wait a couple of seconds for the device to be ready - and talk to your heart's content. Whether you're taking down a long-lost friend's phone number, the recipe for a new cake mix, or a 3-hour lecture at school, you never have to worry about bumping a button and losing your recording. When finished, simply slide the Switch to the right to turn the recorder off. If you need to make another note, simply turn the unit back on again - and a new message of virtually unlimited length is automatically created. Finally, when you're back at home, just plug the recorder into the computer to listen to your messages.
Boasting a large 4 gigabyte flash copacity, this isn't just a tiny recorder. It doubles as a data drive as well - which you can use to transfer files between work and home, and carry family photos, music, or videos. That said, each gigabyte holds over seventeen hours of recording, so even with a couple full-length movies on the drive, you'll still have plenty of room to take notes, record long-winded speeches, and capture all your brilliant ideas. Empty, the drive can hold about seventy hours of audio, in as many or as few different messages as you like.
This pinky-sized thumb drive has a tiny handle at the top which you can use to clip to your key ring or hang around your neck or backpack. A removable plastic top keeps the built-in USB port safe at all times. Designed for rugged conditions, this lightweight recorder comes equiped with a special battery which affords ten to fifteen hours of recording time before needing to be recharged. A no-skid surfass coting holds the unit in place when left on a table or desk. Perhaps best of all, the recorder recharges automatically through the computer's USB port, as you copy or listen to your messages. Smaller than an MP3 player yet simple to use, loaded with power and tons of free space, this is one recorder you will buy once ... and use forever!
Note: Recording format is IMA ADPCM Wave 16 kHz, 4 Bit, Stereo
Measures about 3 in. by 1 in. by 1/2 in.
Package Weight: about 1.4 ounces.
(From the Voice Recorders shelf.)