Rattle Egg, Three-Pack
3 Small Plastic Balls, Each with a Rattler Inside
Item Number: 6045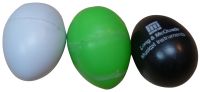 Larger Picture
Product Features
Each egg differs in weight and sound.
Made of high-quality plastic, sturdy and strong.
Incorporate into any game where a blind player needs to know where somebody is.
Use as a simple and fun mobility aid.

Product Description:
We carry quite a few different noise-makers, but these are especially fun. Firstly, this is a pack of three, so there are usually enough to go around. What's more, each egg is slightly different, with varying weights and sounds from each one. They're made of high-quality plastic, and we've found them to be quite sturdy and almost impossible to break.
The possibilities for these rattling eggs are only limited by your imagination. It won't be long before they're incorporated into games of hide-and-seek. Chasing games are a lot more fun for blind players if players carry a rattler so everyone knows where people are. Mobility instructors and other teachers have used them in beginning instruction for blind youngsters, and we've even heard of folks buying them for their blind dogs. So grab a pack of three noisy little eggs - at this price they won't last long.
Caution: Not suitable for use by children under the age of four, as pieces could be hazardous if an egg was to break.
Package Weight: about 2.1 ounces.
(From the Toy Department shelf.)