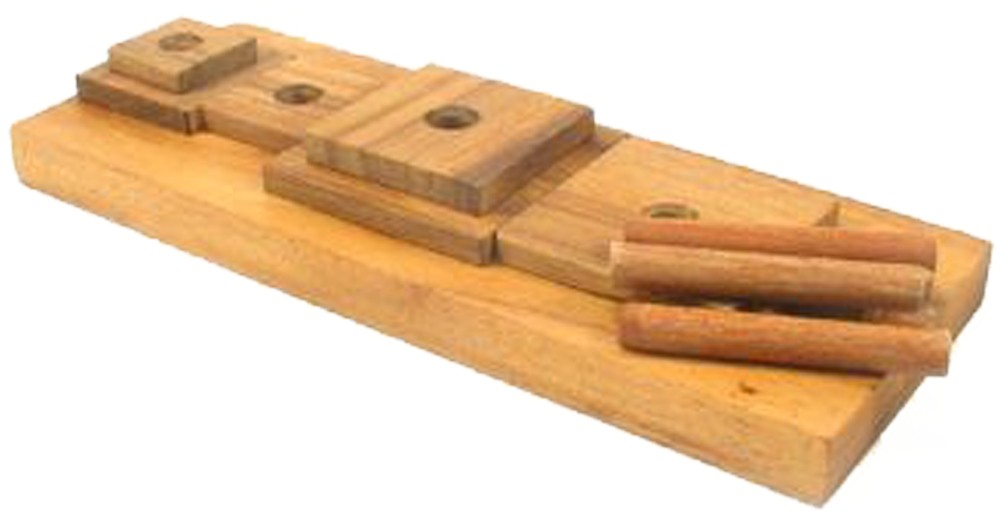 Pyramid Builder
Item Number: 2024
Product Features
Measures about 8-1/2 in by 3-1/2 in by 1-1/2 in.
Package Weight: about 10.6 ounces.
Product Description
Here's a nice easy one for kids. The object of this unique game is to build a pyramid on one side of the board with seven different-sized wooden tiles. First, you'll want to set up the pyramid in the middle of the long, 8.5-inch wooden board, on one of the included pegs. Then, perhaps with the help of a friend, the player must move the pyramid, piece by piece, from the middle peg to one side. But be careful: you're not allowed to place a bigger piece on a smaller one - that would be one weird-looking pyramid. Thus, you must keep shuffling pieces back and forth until you've moved the whole structure over to the correct side of the board. Worried about the pieces getting lost? The entire game is safely and easily stored in a wooden box, which doubles as a stable surface to put the game board on. Designed for one player, great for more - our pyramid builder is sure to provide lots of fun without posing too much of a challenge.
Related Products:
Fatal error: No other related products found for class Pyramid