Pocket Magnifier with Pouch
8X, 1.5D: Small, Convenient Size - Comes with Case
Item Number: 6013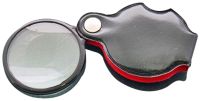 Larger Picture
Product Description:
This is, without a doubt, one of our most useful and exciting magnifiers. Its small size makes it both convenient and practical to carry around with you.
This magnifier boasts a strong 8X magnifying power, and has a good-sized 1.5" diameter lens. It also comes in a little protective pouch - making it well-suited to being your travel companion, without your constantly worrying about damaging your little helper!
(From the Pocket Magnifiers shelf.)
Related Products: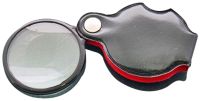 Pocket Magnifier with Pouch
8X, 1.5D: Small, Convenient Size - Comes with Case
Item Number: 6013
$2.95
Tell Me More