Perkins Labeling Tape Holder
Temporarily out of stock.
Usually ships in February 2017.
Use with Perkins Brailler to Create Braille Labels
Item Number: 1100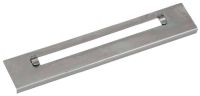 Larger Picture
Read the Instruction Sheet
Product Features
Slide white-plastic frame into Brailler, clip labeling tape in either end of jig, and Braille.
Produces Braille labels much faster.
Label anything you want with ease.
Readily use all Braille contractions and short-forms.
Works with any slightly older standard Perkins Brailler (not the Next Generation model).

Product Description:
If you have a standard Perkins Brailler and want to easily make a bunch of Braille labels, this nifty gadget is just the thing you've been looking for. Simply slide this white-plastic frame into the Perkins Brailler, clip the labeling tape in either end of the jig, and Braille just like you're writing on a piece of paper.
You will have to cut the tape yourself whenever you're finished a label, but you'll find you can produce Braille labels much faster this way as opposed to using a slate or even a Braille labeler. Also, embossing labels in the Brailler means that you can use every grade 2 Braille contraction - including those not found on the wheel of a Braille labeling gun.
Package Weight: about 0.5 ounces.
(From the Writing Braille shelf.)
Related Products: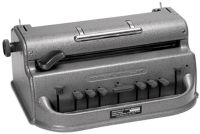 Perkins Brailler
Heavy-Duty Braille Typerwriter, Built Like a Tank
Item Number: 1098
$789.95
Tell Me More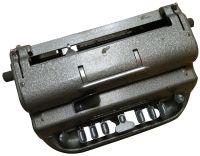 Refurbished Perkins Brailler
A Gently-Used Perkins Machine - at Half the Price
Item Number: 1099
$384.95
Tell Me More