Packing Box Puzzle
Large Cube Puzzle with 25, Identical Wooden Pieces
Item Number: 6038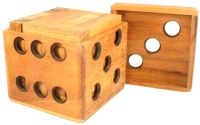 Larger Picture
Product Description:
At some point, we've all gotten things that come in a million pieces, all packed into a cardboard box. We dump out the pieces, run out of time to assemble the thing, and try to cram all the pieces back into the box ... which by this point seems very small. The pieces just won't go back in the way they used to. Know the feeling? Well, Here's a fun way to get some practice.
Our Packing Box Puzzle contains twenty-five wooden pieces, all shaped like the number 1. Having all the pieces the same shape makes the puzzle a little less complex, but the shear number of blocks does pose a bit of a challenge. All you really have to do is pack all the pieces into the wooden box they come in, in such a way that the lid will fit snugly on top. Recommended for ages 12 and up.
Measures about 3-1/2 in. by 3-1/2 in. by 3-1/2 in.
(From the Brain Teasers shelf.)
Related Products: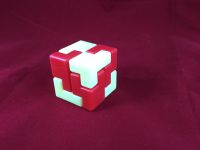 Plastic Cube Puzzle
Great Cube for On the Road, Pieces Snap into Place
Item Number: 1194
$9.95
Tell Me More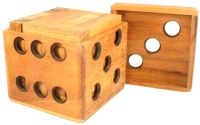 Packing Box Puzzle
Large Cube Puzzle with 25, Identical Wooden Pieces
Item Number: 6038
$9.95
Tell Me More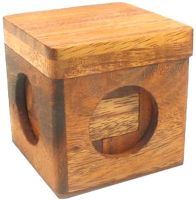 Cube-in-a-Box
Build a cube in a Wood Box With 7 Different Pieces
Item Number: 6039
$8.95
Tell Me More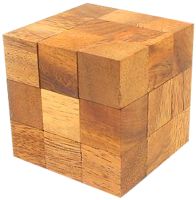 Snake Cube
Form a Cube out of 27 Blocks, All On One String
Item Number: 6041
$6.95
Tell Me More