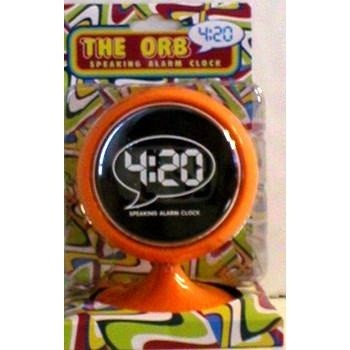 Orb Talking Clock
Item Unavailable. We don't know when or if this item will be back in stock.
Item Number: 2002
Product Features
Modern, stylish, sturdy, and unbelievably simple.
Tap clock anywhere to get the time; no visible buttons.
Stands 6" tall when clipped into sturdy plastic stand; strong suction cup on base.
Circular; clear digital read-out and easy-to-hear computerized voice.
3 small set buttons are on rear of clock in indented area covered by stand.
Runs on two AA batteries (not included).
Package Weight: about 14.1 ounces.
Product Description
The world of talking clocks just entered the 21st century! This impressive clock stands over six inches tall, when clipped into its sturdy plastic stand. The circular clock floats a couple inches off the desk or table, showing the time on the clear digital read-out. No buttons are to be seen. Then ... whack! Just tap the clock anywhere you like, and it will instantly announce the time. It's fun design and sturdy construction make it the undying favorite of kids of all ages.
But this clock is by no means just for kids. The unit boasts a super-strength suction cup on the base of the stand. When you set it down on the nightstand, it's not moving. Period. Plus, there are no buttons to press, and no switches to accidentally bump. The three small set buttons are located on the rear of the clock, in an indented area less than an inch in diameter. When you set the clock and press it into the stand, they're all but invisible!
Folks often ask us for a clock with a single large button to hear the time, because their elderly mother keeps pressing the wrong button. This is the ultimate solution - she need press no buttons at all. It's modern, stylish, and sturdy. Perhaps best of all, it's the simplest talking clock in the world! (Runs on two AA batteries, not included.
Product Directions
Directions for the Orb Talking Clock From Future Aids, The Braille Superstore.
Changing batteries. Place the clock on the desk and remove the unit from the base by twisting it counter-clockwize. Turn the clock face-down and find the flat spot on the back (about two inches long and an inch high). Pull up to remove battery cover.
Related Products:
One-Button Design, Clear Male Voice, Loud Speech
Item Number: 1016
$44.95