Moshi Voice-Controlled Talking Table Clock
Item Unavailable.
We don't know when or if this item will be back in stock.
Use Only Your Voice to Get the Time, Date and More
Item Number: 1026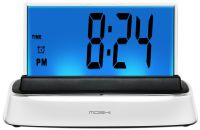 More Pictures
Listen to this Product
Product Features
Completely voice operated.
Can speak the date and temperature.
One daily alarm.
3 different alarm sounds.
Optional snooze feature.
Features a human-sounding, clear, concise, pleasant female voice; digital display.
To initiate a command, just say, "Hello Moshi.
" Stands 7-1/2" high, 3-1/4" deep, and 4-1/2" wide.
Operates on standard AC power (by using the included adapter).
Can also run off 3 AAA batteries (not included).

Product Description:
We haven't gotten this excited about a talking clock since - well, never! The Moshi Interactive Voice Responsive Talking Alarm Clock doesn't need you to use a single button, knob, or switch - ever. All features, including getting the time, date, room temperature, and even performing most setup functions, are controlled 100% by the speaking of your own voice! And yes, the voice recognition capability of this clock is highly-sophisticated, so it really does understand what you say - the first time you say it.
To initiate a command, just say, "Hello Moshi." while in the general vicinity of this amazing clock. Moshi will respond with, "Command please ..." after which you just tell the clock what you want. Saying any of twelve commands will cause Moshi to respond - by speaking in a human-sounding, female voice so clear, concise, and pleasant that you'll have a hard time believing it's coming from a machine!
The Moshi Voice-Activated Alarm Clock is for anyone looking for the added convenience of interacting with their clock while on the go - or not having to fiddle with this button or that switch. With Moshi, you can ask for the time while getting ready in the bathroom, set the alarm (or turn it off) without moving from the comfort of bed, and get the current temperature all the way from the closet. Simply put, the Moshi Talking Clock is a time-saver for a busy lifestyle. What's more, the World Blind Union has officially endorsed the Moshi Alarm Clock because of its ease of use through verbal commands, which have benefited the blind community.
So what all can you tell this amazing clock to do - by simply talking to it? Here's a complete list of the commands Moshi understands ...
Time (Tells you the current time - complete with AM or PM.)
Today's Date (Tells you the current date - complete with weekday, month, and day.)
Temperature (Gives you the current room temperature - in either Celcius or Fahrenheit.)
Set Time (Sets the time - by voice of course.)
Alarm (Tells you the time the alarm is set for.)
Set Alarm (Sets the alarm - again by voice.)
Alarm Sound (Choose from 3 available alarm sounds - Chime, Chirp, or Bell.)
Turn off Alarm (Turns off the alarm; gives current time, date, & temperature.)
Play Sleep Sound (Plays 5 minutes of your sleep sound - to help you relax and drift off to la-la land.)
Sleep Sound (Choose 1 of 3 available sleep sounds - water, birds, or waterfall.)
Night Light (Turns the night light on or off.)
Help (Accesses a comprehensive Help menu - to make sure you remember every available feature.)
If you're wondering, this clock also has a Snooze function: just touch the screen when the alarm sounds, and Moshi will let you rest in peace for nine more minutes - before waking you again. The Moshi Talking Table Clock stands a full 7-1/2" inches high, and is 3-1/4" deep and 4-1/2" wide. It operates on standard AC power (by using the included adapter), or can also run off three AAA batteries (which are not included).
Package Weight: about 1.1 pounds.
(From the Talking Clocks shelf.)
Related Products: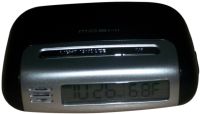 Moshi Voice-Controlled Talking Travel Clock
Smaller, Sleeker Model, With All the Same Features
Item Number: 1027
$24.95
Tell Me More