Metal Pie Divider
Cut Pie in Eight Equal Slices with One Easy Press
Item Number: 1041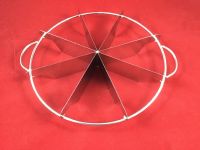 More Pictures
Product Features
Cuts a pie into eight equal slices.
Designed for an eight-inch pie.
Made of unbreakable metal.
Blades are surrounded by a metal ring for added durability.
Dishwasher safe.

Product Description:
There's nothing quite like a fresh apple pie for a Summer evening, a pumpkin pie at Thanksgiving or a banana-cream pie at Christmas. There's also nothing quite so frustrating as pulling a hot, bubbling pie out of the oven and slicing it up, only to discover that the pieces are all different sizes and not at all the right shape. With our brand-new pie divider, however, that never needs to happen again.
This ingenious pie cutter is made of unbreakable metal, and is dishwasher safe. Eight metal blades extend from the center, then slant upwards to accommodate an eight-inch pie. You can use it to cut larger pies, you'll just have to cut the last inch or so yourself. You can even use it to cut giant pie-shaped cookies, which are a big hit with kids. A metal ring surrounds the top of the cutter and the blades are welded firmly to it, so it won't be wearing out any time soon. This little gadget is built to cut thousands of pies perfectly, every time, year after year. Finally, two sturdy handles, one on each side of the pie divider, insure it's easy to use and pressure is applied evenly for every cut. In short, preparing your dessert just became - well - as easy as pie.
Package Weight: about 14.4 ounces.
(From the Kitchen Corner shelf.)
Related Products: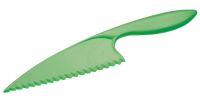 Nylon Knife
Temporarily out of stock. Usually ships in Mid June.
Cut All Kinds of Food Without Cutting Your Fingers
Item Number: 1033
$4.95
Tell Me More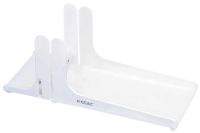 Bread Cutter Board
Temporarily out of stock. Usually ships in Mid May.
Cut Fresh-Baked Loavs into Straight, Even Slices
Item Number: 1040
$49.95
Tell Me More