MeasureMax
All-in-One Utensil - Replaces 11 Measuring Spoons
Item Number: 1039

Larger Picture
Product Features
Adjustable measuring spoons.
Fully adjustable teaspoon at one end and tablespoon at the other.
Both plastic and metal spoons are dishwasher-safe.
Compact and efficient, light-weight and durable.

Product Description:
That's right - our adjustable measuring spoons just got even better! This super duper kitchen helper contains the equivalent of eleven clunky measuring spoons - yet it's not at all complicated to figure out.
There's a teaspoon on one end, and a tablespoon on the other. Both are fully adjustable, meaning you can easily measure a quarter teaspoon of salt into the mixing bowl, followed by half a tablespoon of vanilla. What's more, this handy dandy gadget is small enough to fit into most spice jars, and both the plastic and metal versions are dishwasher-safe!
Package Weight: about 2.8 ounces.
Again, you can choose from plastic or metal for your new MeasureMax. This way, you have complete control over price and durability.
Plastic
Item Number: 1039-1

Ever affordable. Made of lightweight plastic. Can be used to measure dry or liquid ingredients. Place on top rack of dishwasher.
Metal
Item Number: 1039-2

A real steal at this price. Manufactured out of stainless steel with that ever-popular satin finish. Use for all types of ingredients - dry or liquid. Place anywhere you like in the dishwasher, including the silverware tray. A well-made, sturdy tool that'll stand up to the demands of even a chef for practically forever!
Continue Shopping
(From the Kitchen Corner shelf.)
Related Products: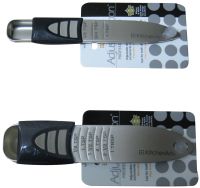 Adjust-a-Spoons
Two-Piece Set of Adjustable Measuring Spoons
Item Number: 1038
$13.95
Tell Me More