Magnetic Construction Set
Item Unavailable.
We don't know when or if this item will be back in stock.
Build Impressive Structures; Show Geometric Shapes
Item Number: 2518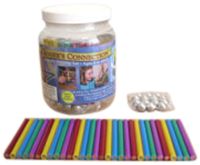 Larger Picture
Product Description:
Imagine. Create. Enjoy. It's that easy!
Here is the ultimate toy. First introduced almost a decade ago, Rogers Magnetic Construction System has taken the country by storm. This ingenious system of magnetic rods and steel connection balls allows children and adults alike to create realistic, three-dimensional shapes in minutes. The balls allow connections to be made at any imaginable angle, and the long, four-inch rods create impressive structures in no time. The magnets are intuitive ... many times the rods just seem to fall into place. Excellent for quiet, imaginative fun, designed to illustrate geometric concepts, and impossible for both children and adults to put down, this unbelievable toy has unlimited potential. Build a house, a wheel, a boat ... even an icosahedron! The models you create will be 3D, realistic, and fun. Widely-used in classrooms, loved by people of any age, and the perfect choice for an after-dinner activity, the playing pieces come in a convenient cardboard box for safekeeping and easy transportation. This 44-piece set comes complete with thirty connector rods in six different colors, and fourteen connector balls.
Warning: this game is addictive. More pieces mean more players can join in, and together you will construct larger and more complex buildings. One set may not be enough when you see what this game can do!
(From the shelf of ghost products)
Related Products:
Fatal error: No other related products found for class Build