Love Jewelry Box
Gorgeous Wooden Box With Love Brailled on the Lid
Item Number: 1225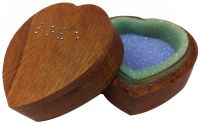 Larger Picture
Product Features
Jewelry boxes are constructed of hand-hune natural teek.
Heart-shaped, with Braille and print "Love" on the lid.

Product Description:
They say packaging is everything, and in this case we'd have to agree. There simply isn't any more meaningful way to give a ring, bracelet, or necklace to the love of your life than in one of these one-of-a-kind jewelry boxes. Made of hand-hune natural teak with a press-fit lid, the box itself is enough to set the stage for a very memorable gift. But the print and Braille message your loved one will read before lifting the lid will take their breath away.
"Love" has been expressed in countless ways, but this one should last a lifetime. The word "Love" is embossed in raised Braille right on the lid of this delicate wood box, and the same message appears in print below the perfectly-crafted Braille letters. Of course, when she finally gets to the point of seeing what's inside the heart-shaped case, your gift of jewelry will be resting on a natural-wood bed to keep it safe ... and make the effect complete.
Measures about 2 in. in diameter
(From the Braille Apparel shelf.)