Line Up
Ten Rods, Thirteen Pegs, in One Wooden Tray of Fun
Item Number: 1267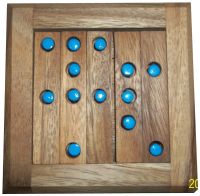 Larger Picture
Product Features
Boasts one wooden tray with 10 rods and 13 pegs.
Antique wooden tray has a solid bottom.
Compact and portable, game can be played anywhere.
Features 5 rods per layer, 26 holes in total.
Figure out how to reassemble all the rods in the right holes.

Product Description:
If you're the adventurous type, the first thing you'll want to do is unwrap your new puzzle and dump it out on your kitchen table. If you're a little more cautious (and quite a bit smarter), you'll probably study the very particular way the rods lay into the box first. You see, there's just one way to put it back together, one and only one way to pack the whole thing neatly back into its little storage tray. Every rod must be in place, so every peg will fit through the holes in both layers of rods.
This antique wooden tray has a solid bottom, so this game can be done at your desk while you're having lunch or on your knee as you wait for the bus. The bottom layer of thin rods lays in from left to right, and the second layer is set on top at 90 degrees to the first layer. Five rods per layer, twenty-six holes in total. Can you figure out how we packed it all in when we shipped it to you?
Package Weight: about 7 ounces.
(From the Brain Teasers shelf.)