Lighted Rectangular Reader
2X Wide Rectangular Lens - with Built-In Light
Item Number: 1185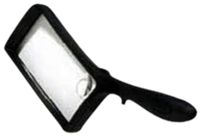 Larger Picture
Product Description:
This black, well-maid magnifier is designed for printed matter. Many of our customers find reading a lot of print with a round lens tedious, and appreciate the larger size as well. This magnifier boasts a 4-inch wide, 2-inch tall acrylic lens, which has 2X magnifying power, with additional strength offered by a duel-magnification bubble in the very center of the lens. You can even turn on the included light with the flick of a switch.
Please choose the style of handle you'd prefer.
Curved Handle
Item Number: 1185-1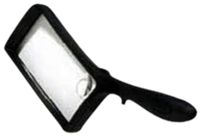 Has a bent handle to make it easier to hold the lens right on the paper, and an 8X bubble.
Straight Handle
Item Number: 1185-2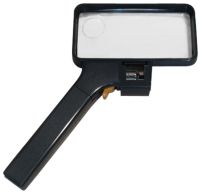 Comes with a straight handle, and a 4X bubble. Ideal for those with less-severe visual impairments.
Continue Shopping
(From the Reading Magnifiers shelf.)