Lighted Jeweler's Loupe
Item Unavailable.
We don't know when or if this item will be back in stock.
10X, 1.5D - Great Lighted Magnification
Item Number: 1203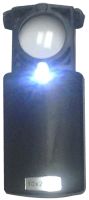 Larger Picture
Product Description:
For strong magnification power, you just can't beat a Loupe magnifier. But wait, it gets even better - with our new line of lighted Loupes. Now, no matter what the lighting, you'll be able to see what you're looking at. This unit magnifies objects 10 times their normal size, has a 1-1/2 inch lense, and boasts a small built-in light.
(From the Loupe Magnifiers shelf.)