Leather Fanny Pack
Item Unavailable.
We don't know when or if this item will be back in stock.
Convenient and Hands-Free - Never Lose Your Stuff
Item Number: 1145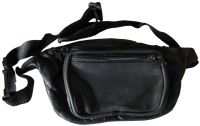 Larger Picture
Product Features
Allows you to easily organize all your shopping or travel essentials.
Features easy-to-use adjustable strap.
Highly fashionable; made of black leather.
Boasts zippered pockets, awesome for organizing all those must-have items.
Offers safety from pick-pockets and purse-snatchers.
Features 1 large pocket and 2 smaller ones.

Product Description:
Picture this. You're in the check-out line at your favorite supermarket. Your turn to pay is fast-approaching, when, all of a sudden, you realize with a groan that your wallet and Frequent Shopper Rewards card are buried somewhere in the depths of your over-stuffed backpack. And now, instead of completing your transaction, you're stuck digging through that napsack, furiously trying to find your credit card - while a huge line of customers impatiently waits behind you.
Okay, so a scenario like that doesn't happen every day - good thing, right? But it certainly can pop up from time to time on an especially hectic afternoon. We know, because it has surely happened to us, and more than merely once or twice, by the way!
The good news is: there's an easy way to seamlessly organize all your shopping or travel essentials, and make them readily accessible at all times. A fanny pack is worn about the waste, and is a completely hands-free solution. The adjustable strap makes it a synch to tweak the pack until you'll barely even realize you're wearing it. Usually, people keep the packs at the front, but they can also be warn at the side or back. Our high-quality fanny packs are made of black leather, and are both practical and fashionable. And, naturally, the zippered pockets are awesome for carting around all those must-have items, like your cell phone, keys, wallet, spare change, student ID cards, bus or airline tickets, charge slips, medicines ... The list goes on and on.
Fanny packs have been used for ages by bikers, hikers, and tourists - people who do a lot of running about but need a secure way to keep their valuables close at hand - all the time. What's more, these packs are routinely recommended by travel agencies as a way of thwarting pick-pockets and purse-snatchers, as you're much more likely to notice someone trying to steal your wallet out from right in front of you. The safety advantages are definitely there - as is the convenience and ease of organization. So go ahead, try using a fanny pack next time you head to the mall, and we're confident you'll never stop taking one with you whenever you leave home!
This pack has one large pocket and two smaller ones - all three of which zip closed. The largest pocket measures 6 by 4 inches.
Package Weight: about 7.4 ounces.
(From the Travel Accessories shelf.)
Related Products: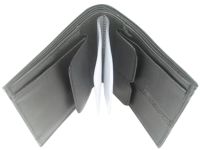 Leather Organizer Wallet
Item Unavailable. We don't know when or if this item will be back in stock.
Enough Pockets to Separate Bills, Change and Cards
Item Number: 1146
$19.95
Tell Me More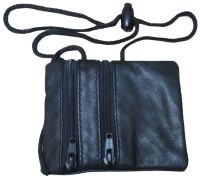 Leather Change Purse
Holds Your Loose Change - Has Two Separate Pockets
Item Number: 1147
$2.95
Tell Me More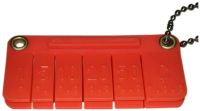 Pocket Money Brailler
Clips on Your Keychain, Marks Bills in Seconds
Item Number: 1148
$6.95
Tell Me More