Leather Change Purse
Holds Your Loose Change - Has Two Separate Pockets
Item Number: 1147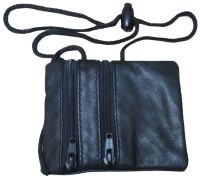 Larger Picture
Product Features
Made of high quality black leather.
Features easy accessebility; offers safety for your valuables.
Has 2 pockets that zip closed: one for coins and the other for dollar bills.
Sports a fabric lanyard comfortably warn around your neck.

Product Description:
A perfect companion to our
Leather Money Organizer Wallet
, our
Leather Change Purse
is also made of quality black leather. Sporting a fabric lanyard that is comfortably warn around your neck, it makes sure your valuables are safe, yet easily accessed with even one hand. It has two different pockets that zip closed: the larger one is ideal for all those coins you inevitably collect, and the smaller one is great for folded dollar bills (or loonies or twonies if you're in Canada). This change purse is small yet practical, and will make sure those pesky pennies, nickels, and dimes don't end up mixed up in everything else you're carrying! It is also a great way to hang onto coupons, and even fits credit cards or a small cell phone.
Package Weight: about 1.2 ounces.
(From the Travel Accessories shelf.)
Related Products: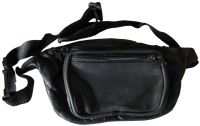 Leather Fanny Pack
Item Unavailable. We don't know when or if this item will be back in stock.
Convenient and Hands-Free - Never Lose Your Stuff
Item Number: 1145
$6.95
Tell Me More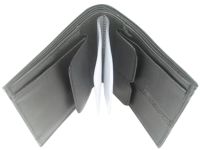 Leather Organizer Wallet
Item Unavailable. We don't know when or if this item will be back in stock.
Enough Pockets to Separate Bills, Change and Cards
Item Number: 1146
$19.95
Tell Me More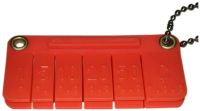 Pocket Money Brailler
Clips on Your Keychain, Marks Bills in Seconds
Item Number: 1148
$6.95
Tell Me More