Large Print Keyboard
Keys You See: Bright Bold Print and High Contrast
Item Number: 6007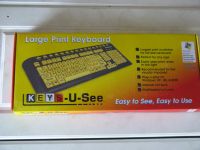 Larger Picture
Product Description:
No one can argue with the fact that home-row typists are the fastest folks around. Prior to 1900, however, almost everyone hammered out their letters with two fingers. So, if you don't want to make a science out of typing, the "Hunt and Peck" method may just get you away. As long as you can see the keys you're hunting for, that is.
Here, then, is a regular-sized keyboard - with enormous bold print. It has a standard USB connection, and regular key layout. You'll even find a dozen easy-access buttons along the very top to quickly go to your favorite search engine, launch your email program, and so on.
We have two different types of large print keyboards available. Feel free to choose the one you feel will offer the best level of contrast for your particular degree of visual impairment.
Black on Yellow
Item Number: 6007-1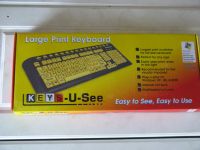 Black board with vibrantly-bright yellow keys and bold black print. This one's the original tried-and-true model - the type of keyboard that tends to work like a charm for most low vision computer users.
White on Black
Item Number: 6007-2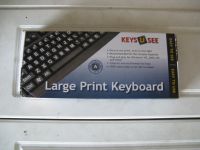 Black board with black keys and bold-face white print. This keyboard is also a slightly-newer model, and thus is a bit heavier than our other one.
Continue Shopping
(From the Electronics shelf.)
Related Products: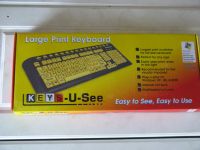 Large Print Keyboard
Keys You See: Bright Bold Print and High Contrast
Item Number: 6007
Available Styles: Black on Yellow (for $34.95), or White on Black (for $39.95)
Tell Me More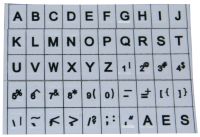 Large Print Keyboard Stickers
Bold Print Overlays Make those Keys Easier to See
Item Number: 1135
$2.95
Tell Me More