Kids Braille Wristband
Cool Silicone Bracelet, Small Size for Kids
Item Number: 1216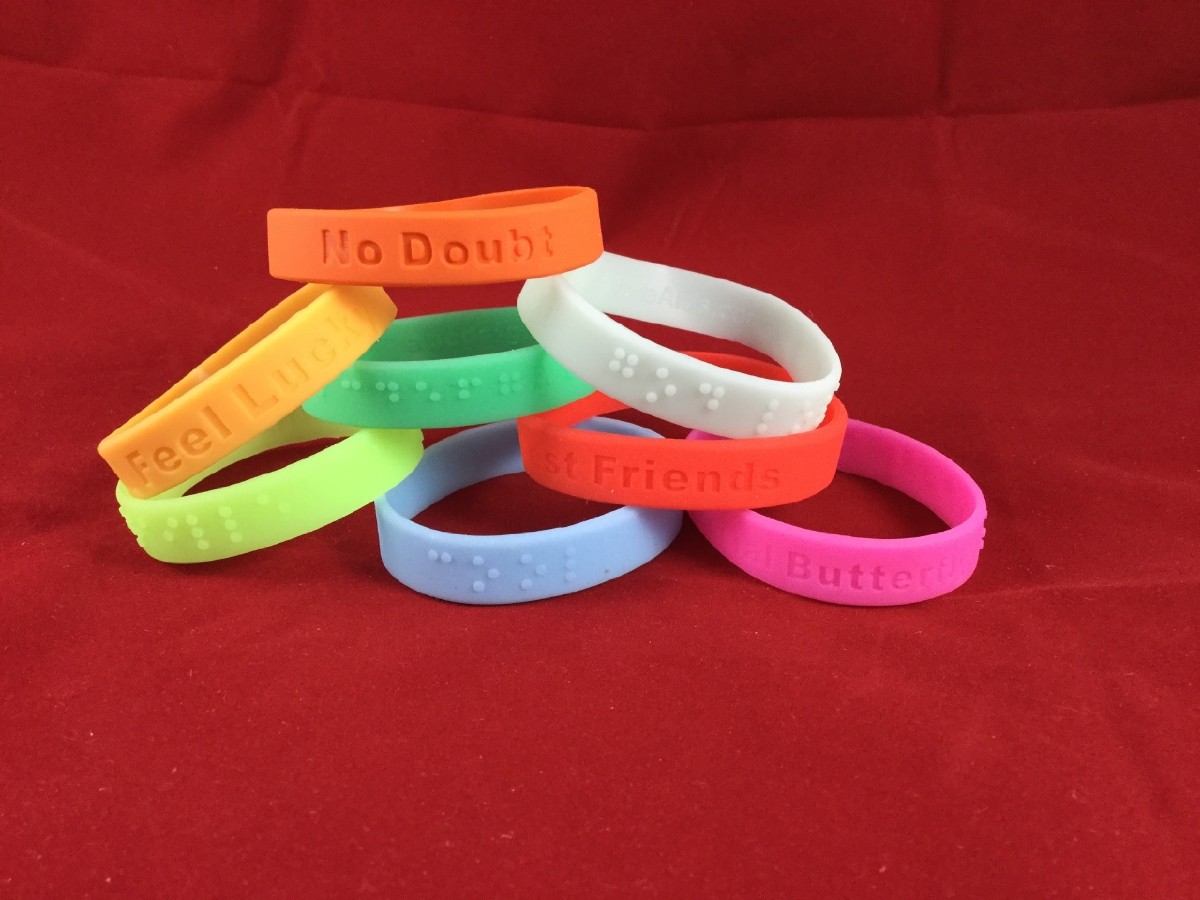 Product Features
Silicone wristbands sporting both print and raised Braille.
8 messages and colors to choose from.
Bracelets glow in the dark for added appeal.
A wildly popular choice for kids of all ages.

Product Description:
These wristbands are about the hottest thing going. Boys and girls alike love them, young adults wear them, and even grown-ups have been seen with them. First introduced years ago as a promotional item for a bike race, they've taken the country by storm. Nowadays, the fad seems to be to wear two or three at once. So, here's your chance to join in the fun!
Our Braille silicone wristbands for kids come in various colors, with a given message debossed (engraved) in print, and the same message embossed (raised) in Braille. What's more, we've added a special feature to our kids bracelets ... they glow in the dark. These are great for kids of all ages, starting at the age of three. They're cool, fassionable ... and best of all: Braille!
Package Weight: about 0.2 ounces.
Which message would you like on your wristband?
Best Friends
Item Number: 1216-1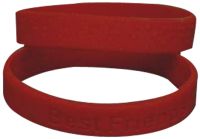 Remember to get two ... one for your child and one for his or her best friend. Color: Bright Red.
COOL
Item Number: 1216-2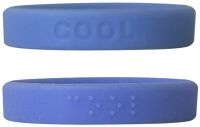 Any kid's favorite word. Color: sky-blue.
God Loves You
Item Number: 1216-3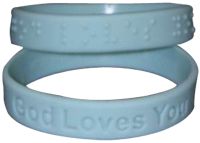 Share the good news with everyone. Great for church activities, Bible camps and more. Color: Light Blue.
I Feel Lucky
Item Number: 1216-4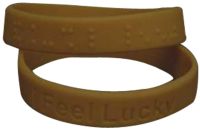 Great for kids who love an adventure, who will try almost anything! Color: Forest Green.
No Doubt
Item Number: 1216-5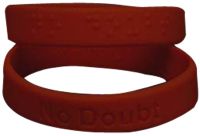 A kid's way of saying "of course." Color: Light Orange.
Social Butterfly
Item Number: 1216-6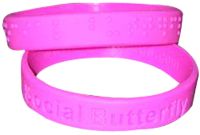 There's nothing wrong with being a "social butterfly" when you're busy with things like family dinners, playtime with friends, or school activities. It means you're popular ... so tell your friends. Color: Hot Pink.
Braille is Cool
Item Number: 1216-7
Well, it is! So why not tell everyone you know how much you like Braille - and you'll be promoting Braille literacy all at the same time. Color: Lime Green (Glow-in-the-Dark).
Alphabet
Item Number: 1216-8
Features all 26 letters of the alphabet embossed on the outside of the band, and the print alphabet on the inside. Color: turquoise (Glow-in-the-Dark).
Entire Set
Item Number: 1216-9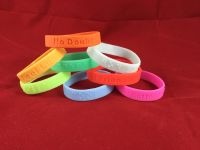 Grab all eight of our Braille wristbands for kids, and get one free.
Continue Shopping
(From the Braille Novelties shelf.)
Related Products: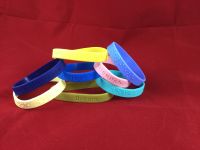 Large Braille Wristband
Popular Silicone Bracelet, for Youths and Adults
Item Number: 1217
$1.49
Available Messages: Believe, Dream, Friendship, Jesus is the Light, Make a Difference, One World, Braille is Best, Alphabet, or the Entire Set (for $9.95)
Tell Me More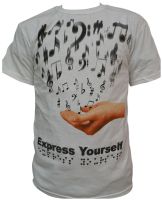 Braille T-Shirt, Adult
Full-Color Designs with Raised Print and Braille
Item Number: 6053
$14.95
Available Designs: Alphabet, Best Friend, Ready to Roll, Rock on!, Always Late, Just for Kicks, Explore Your World, USA, Canada, Braille Superstore (for $9.95), or the Entire Set (for $99.95)
Tell Me More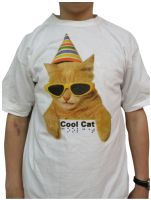 Braille T-Shirt, Youth
Full-Color Designs with Raised Print and Braille
Item Number: 6054
$14.95
Available Designs: Alphabet, I Love Braille, Cool Cat, Wild Ride, Star of the Sea, King of the Jungle, or the Entire Set (for $59.95)
Tell Me More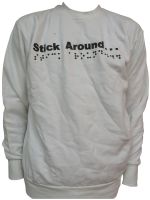 Braille Sweatshirt, Adult
Stay Cozy and Warm While Enjoying Braille Artwork
Item Number: 6055
Available Designs: Stick Around (for $29.95), Reach for the Stars (for $24.95), or the Entire Set (for $44.95)
Tell Me More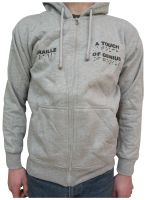 Braille Hoodie, Adult
Highest-Grade Sweater - With Braille on the Front
Item Number: 6056
$49.95
Available Designs: Touch of Genius, Can You Read This, or the Entire Set (for $74.95)
Tell Me More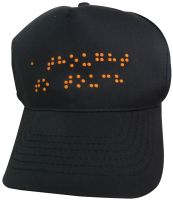 Braille Hat
Wear Braille Up High - For Everyone to See
Item Number: 6057
$19.95
Tell Me More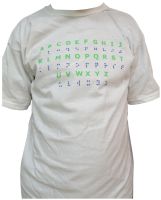 Braille Alphabet T-Shirt, Youth
Intrigue Your Friends - Just for Kids and Teens
Item Number: 1239
$14.95
Tell Me More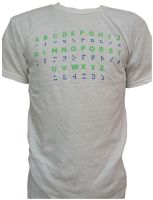 Braille Alphabet T-Shirt, Adult
Great for Teachers, Parents, or Any Fan of Braille
Item Number: 1240
$14.95
Tell Me More