Keychain Magnifier
Item Unavailable.
We don't know when or if this item will be back in stock.
5X, 1D: Really Handy Model, Fits Right on Keychain
Item Number: 1144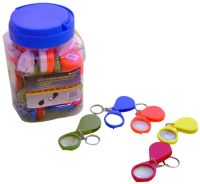 Larger Picture
Product Features
Use ultra-portable magnifier for seeing keyholes or examining coins, stamps, or any object with small print.
5X, 1D, fits on keychain.
Comes in assorted colors.

Product Description:
Okay, here's a pretty cool one. How many people do you know who don't carry a set of keys around with them? Exactly - very, very few. That's why this cute little unit makes such a great addition to anyone's on-hand collection of magnifiers.
This small magnifier has an amazingly powerful 5X power, and the lens measures 28 mm in diameter (just over an inch across). The lens is both clear and lightweight, and will fit right onto any keychain. Aside from the obvious (in helping you see tiny keyholes), this ultra-portable magnifier is also great for examining coins, stamps, or any other object with small print.
These little magnifiers come in assorted colors - so go ahead, grab a few for yourself and a couple friends!
Package Weight: about 0.4 ounces.
(From the Reading Magnifiers shelf.)
Related Products:
Fatal error: No other related products found for class MagPoc5X