Index Card Box
Hard-Plastic Filing Case for Recipes or Addresses
Item Number: 6010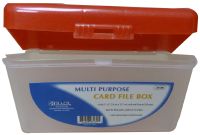 Larger Picture
Product Features
Hard plastic, durable filing box.
Holds over 200 Brailled 3" X 5" index cards.
Easily organize important notes, dates, recipes, addresses, or appointments in whatever way you wish.
Use with our Index Cards and Index Card Slate.

Product Description:
The ideal complement to an Index Card Slate, this durable filing box is made of hard-plastic. It's designed to easily fit over two hundred 3" by 5" index cards with Braille on them. Whether it's your addresses, recipes, notes, shopping lists, account numbers, access codes, appointments, or assignment deadlines you need to organize, having each item on a separate, pocket-sized card will surely prove invaluable. And with the help of this box, you can move each record around as often as you like - and arrange them alphabetically, chronologically, in date order ... Well, you get the idea. We're pretty sure you'll find this is a far more convenient and professional way to keep track of all those little bits of information - rather than jotting them down on little scraps of paper, which always tend to go missing!
(From the Pocket Slates shelf.)
Related Products: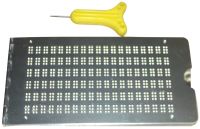 Index Card Slate
6 Lines, 19 Cells - Ideal for Quick Notes
Item Number: 1094
$6.95
Tell Me More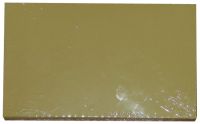 Blank Index Cards
Measures 3" x 5" - Use in Index Card Slate
Item Number: 1095
$2.95 for 50 Cards (Larger Package Available for Better Price)
Tell Me More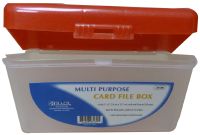 Index Card Box
Hard-Plastic Filing Case for Recipes or Addresses
Item Number: 6010
$2.95
Tell Me More