Handheld Audio Bible
Listen to the Bible on a Shirt-Pocket-Sized Player
Item Number: 1263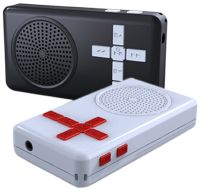 Larger Picture
Listen to this Product
Read the Instruction Sheet
Product Features
Small device that reads the Bible in pre-recorded human speech.
Contains the complete Bible, old and new testament.
Several different translations available.
Small and lightweight, easy to take with you.
Easy to operate, has only six buttons plus volume controls.
Boasts built-in speaker and headphone jack.
Always remembers your place from last time.
Can skip quickly through a chapter to find a particular verse.
Finished with no-skid silicone coting.

Product Description:
Reading God's Word just got a whole lot easier. now, with our new lightweight audio Bible, you can listen to the entire Old and New Testament just by pressing Play. This unit contains the complete Bible, old and new testament, and every book is read in pre-recorded, human speech.
Our Audio Bible is incredibly easy to operate. Blind folks love it, because they don't have to worry about not being able to see an LCD screen. What's more, the device is only slightly larger than a deck of cards, making it both sleak and attractive. All the button placements are easily memorable, and it lasts around 20 hours at loud volume on the large built-in speaker. (Of course, if using the supplied headphones, the unit will play for even longer before needing to have its batteries replaced.)
The talking book is Passport sized, boasts separate buttons for volume adjustment, and has simple buttons to select the desired testament, book, and chapter. It always remembers your place, so you can turn it on after listening for a while and it keeps reading right where you left off. You can even hold down the Forward and Back buttons to skim quickly through the current chapter, to jump right to your favorite verse. Finally, it comes equiped with a no-skid silicone coting, which holds it steady and helps protect the device from damage.
Listen to the Bible when you're walking to school, relaxing after work, or during evening family devotions - and let your roots go down deep into the riches of God's marvelous love. (Runs on a rechargeable battery, which is already included and installed.)
Measures about 4-1/2 in. by 2-1/2 in. by 1 in.
(From the Audio Books shelf.)