Four-in-One Talking Superclock
Pocket-Sized Calendar Clock, Loaded with Features
Item Number: 6005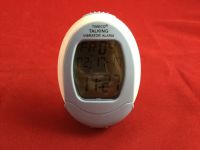 More Pictures
Listen to this Product
Read the Instruction Sheet
Product Features
Can speak the current date.
Has built-in stopwatch and timer.
Can announce time every hour.
One daily alarm.
3 different alarm sounds.
Can vibrate when alarm goes off.
Can speak time in either 12 or 24-hour format.
Spoken instructions guide you through every setting and feature.
Features friendly, female voice, with Talk button on top.
3 set buttons are covered with a protective plastic cover.
Plastic flip-up stand makes digital display easy to see from a distance.
Small, thin, oval unit; easy to use.
Runs on 2 AAA batteries (not included).

Product Description:
Whether you're spending the weekend with a close friend, visiting family in the next state, or traveling around the world on a business trip, this is one clock you'll never want to leave behind. It's so small, it sits comfortably in the palm of your hand. But don't let its tiny size fool you - this baby does much more than simply speak the time.
This clock announces the time in a friendly, female voice, when you press the talk button on the top of the thin, oval unit. The other three buttons are covered by a plastic cover, so you never have to worry about them getting bumped while you're traveling. For low-vision folks, the plastic flip-up stand makes the time easy to see from a distance.
There are three small buttons above the little stand. Without entering the Set menu, the first toggles the alarm on and off, and the second tells you what time the alarm is set for. The alarm is very special, because the clock can vibrate, in addition to playing the alarm sound of your choice (rooster, beep, or ditty), so you're sure to wake up - even if suffering from jet lag. Finally, the third button speaks todays date, such as "Thursday, February 11, 2010."
But the list of features doesn't remotely end there. The time can be spoken in twelve or twenty-four-hour time. There is an optional hourly chime feature. You can even access a running stopwatch or configurable timer - all built into your new talking Superclock. Best of all, every feature we've just talked about, from checking the time left on the timer or how many seconds have elapsed on the stopwatch, to setting the time, alarm and date, is totally accessible to a blind person. Every menu talks, and every setting is spoken aloud.
Going on a trip? Always on the go? Traveling just became a whole lot more fun! (Runs on two AAA batteries, not included.)
Measures about 3-1/2 in. by 2-1/2 in. by 1 in.
Package Weight: about 3.2 ounces.
(From the Talking Clocks shelf.)