Engraved Jewelry Box
Stunning Wooden Box with Your Own Braille Note
Item Number: 1332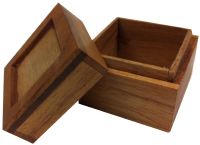 Larger Picture
Product Features
Sports high quality wooden construction.
Measures 2" square.
Indented lid carries personalized Braille message.
Guaranteed to delight your loved one.

Product Description:
We've spared absolutely no expense on this one. This wooden box's high-quality construction sets it well apart from any cheep jewelry boxes you may have been looking at. It's a full two inches square, meaning there's plenty of room for one very special gift - or a couple of smaller ones. The quality-carved natural-wood bed is sure to keep the most expensive of pieces safe, and the lid fits snugly as well.
But there's something extra-special about the lid we just mentioned. In an indented square on the top is a raised Braille message, and what it says is completely up to you. In a few moments, we'll give you a chance to enter a few timeless words to your close friend or loved one. We'll Braille your note on the lid, so you and her will be able to always read how much you care.
Measures about 2 in. in diameter
(From the Braille Apparel shelf.)